Published August 1, 2022
ASI Chicago 2022: My First Time At A Trade Show
Are you going to an in-person trade show soon and wondering what to expect post-pandemic? I'll give you the inside scoop on what trade shows look like now and what trade show giveaways are making a splash.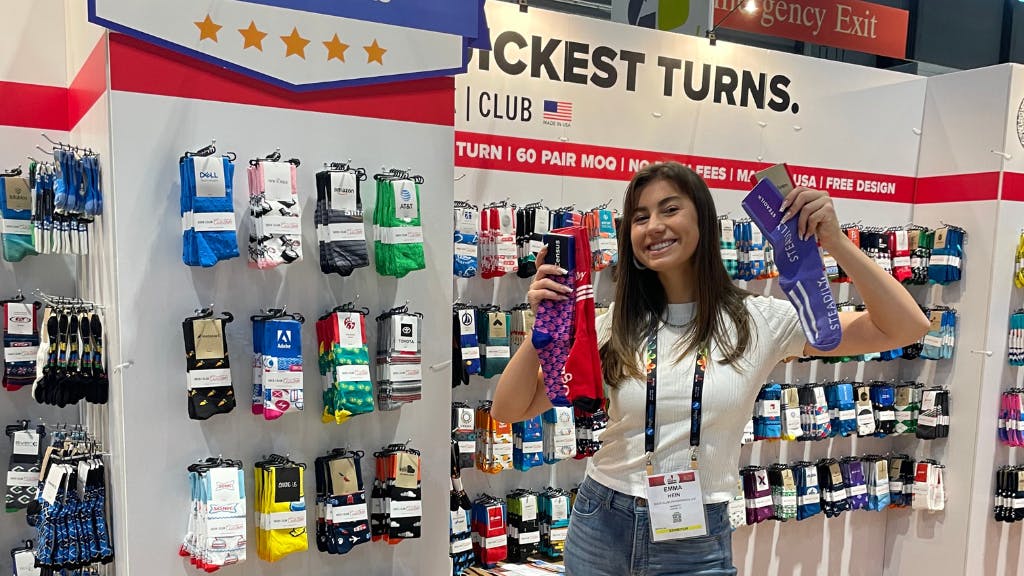 My name is Emma and I am a Marketing Coordinator here at Sock Club. I recently got back from my first trade show at ASI Chicago 2022. It feels so good to be back at in-person events! Sock Club is grateful to have attended ASI Chicago in previous years, but I wanted to give you the inside scoop from a first-time attendee. 


Happy To Be Back and Excited to See New Faces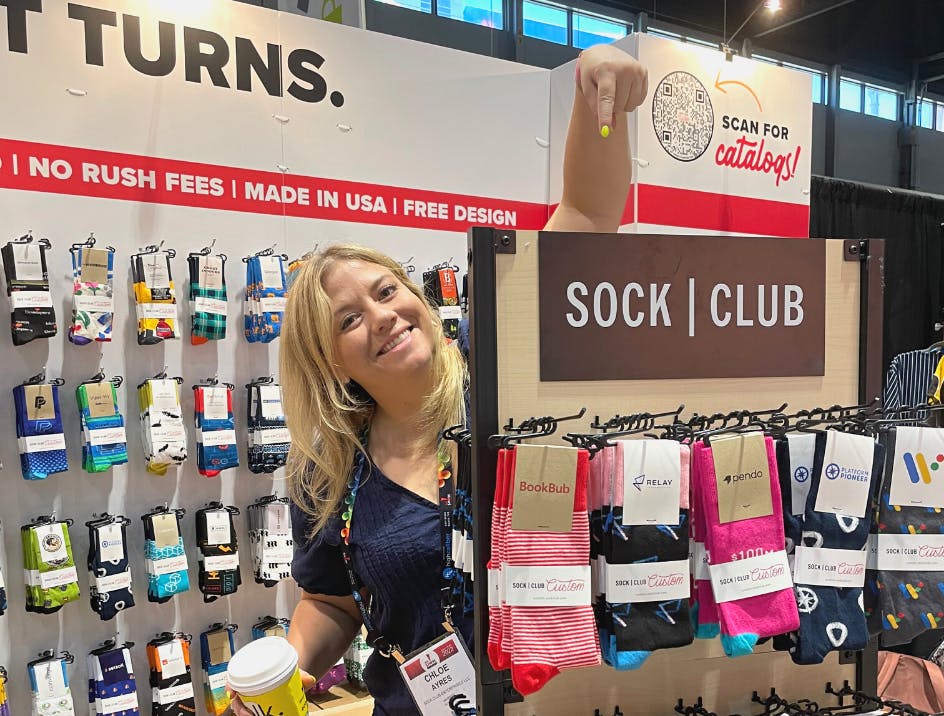 I was told this was the best attendance year yet for Sock Club! Coming back post-pandemic this has not been a common occurrence amongst most in-person events we've attended this year. It was a great networking opportunity for us to see some of our current clients, hear about exciting projects that went through, and share our newest product launch, the custom cotton quarter crew. Besides seeing current clients face-to-face, there were plenty of new faces that made it exciting for us to share Sock Club's value and how we can be a great partner for their custom sock needs.

If you weren't able to make it to the show with us this year, here's what you missed!


Sock Club Launches New Custom Cotton Quarter Crew Golf Sock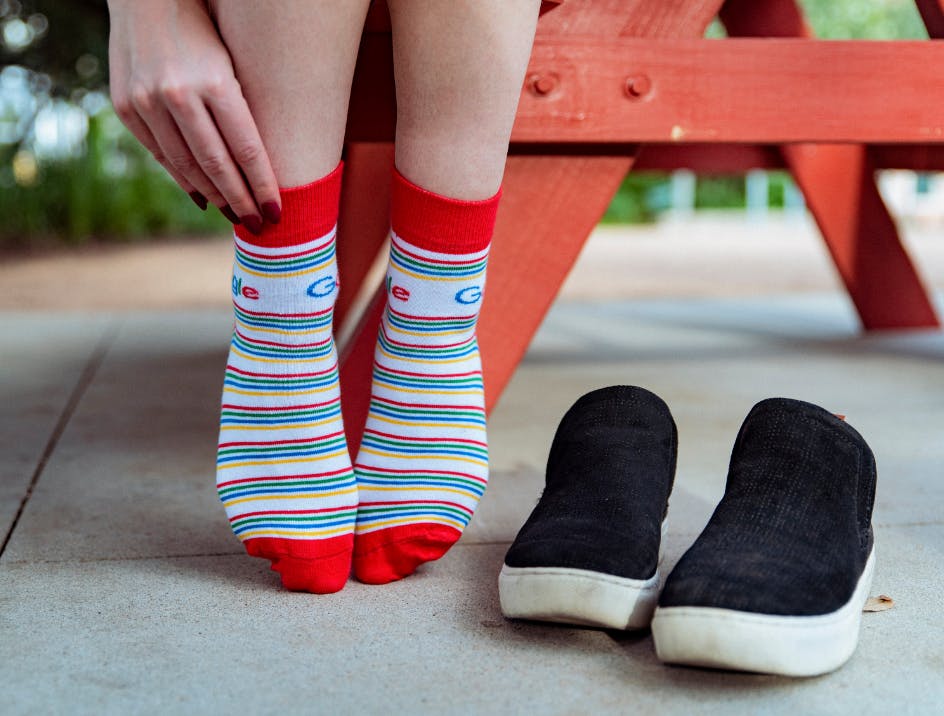 ASI Chicago 2022 was the first time people were able to see a sample of our brand new golf sock, in person! Let me tell you here first- these will be the new BIG trend of 2022. People loved them- spread the word.


Some of our clients are a bit newer and have only done an order with our best-selling dress sock (which is of course a fantastic option) so I showed them our other product offerings. Our athletic cotton crew and ankle styles were a hit- people loved the cushion and compression on the footbed and heel. We find these styles most popular with clients who are always on their feet, sports teams, or people looking for a bit more support.


Another big hit was our custom-printed boxes! With events back up and running plus back to school on the horizon, people are looking for event giveaways ideas. Whether you are welcoming a new hire or new students, hosting an event, or promoting your brand, socks in a box make for a personalized, social media-worthy experience. 
Why Sock Club?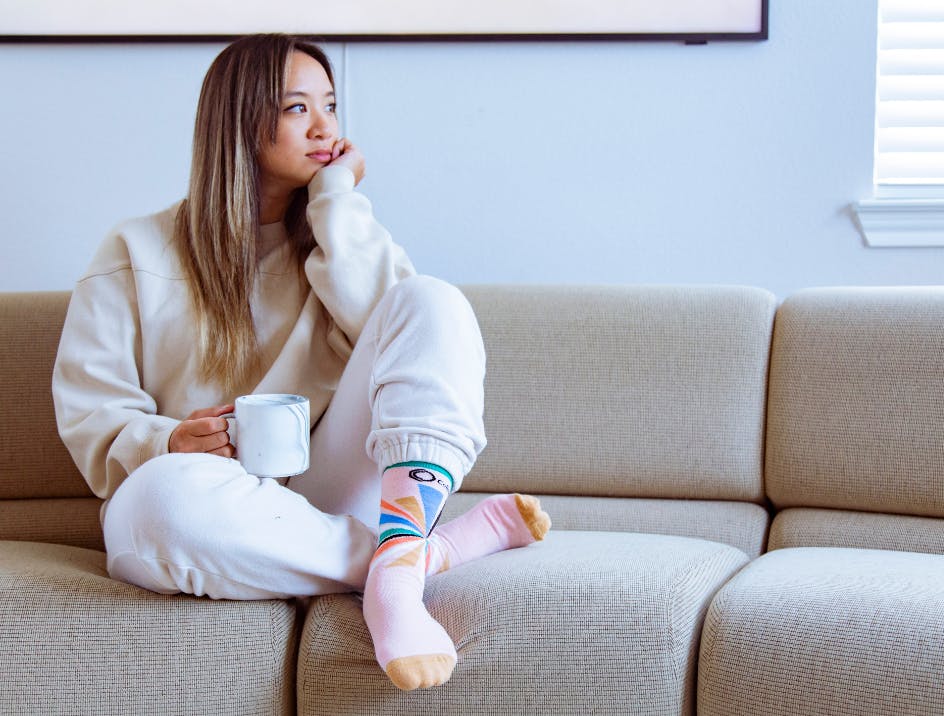 It was great meeting people new to the sock game (aka those that have never sold socks before). Sock Club is such a special company not only with high-quality products and the fastest turnaround times but with dedicated, friendly account managers and customer service representatives that go above and beyond to make sure you have a great experience. 
Most people we talked to who had never heard of or considered custom logo socks before were sold on Sock Club's commitment to service. For our Distributor clients, we offer free designs, no added fees, quick turnaround times, free non-branded PDFs, yearly catalogs with coded pricing, and much more!


We want to make sure you have the most seamless and positive experience ordering or selling our custom socks so we provide you with tons of tools and support.


Our custom-built portal allows you access to all your designs, the ability to communicate directly with our in-house team of designers, a real-time quote calculator, 3D virtuals, and more! All you have to do is set up an account and upload a logo.


Plus, our sock designs are INCREDIBLE. I mean top-notch, retail quality. We have a full team of extremely talented designers dedicated to bringing your brand/vision to life. The level of artistry is unmatched and truly a unique component Sock Club brings to the table. The best part is that we give you FREE designs. Check out our previous sock designs for some inspiration. 
In Comparison to Other Giveaway Products, What Makes Socks (Specifically Sock Club Socks) Better?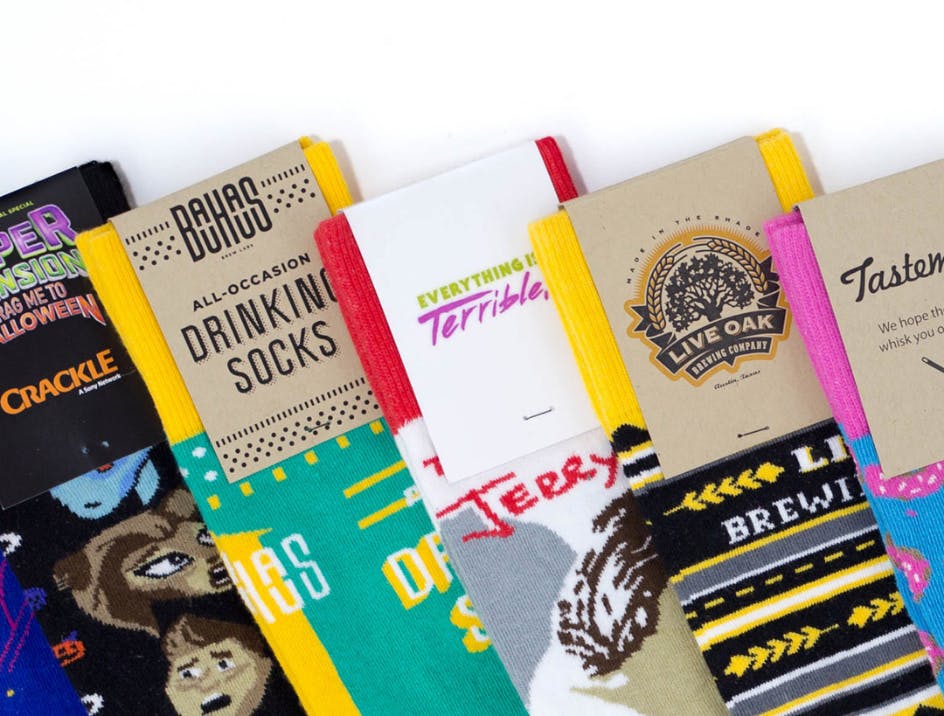 Well, t-shirts are a guessing game with sizing and material quality. You can make the most of your marketing budget with our one-size-fits-most custom socks, guaranteeing no overruns or poor quality. Our custom socks are much more unique, with boutique quality designs, than cheugy (definition: overused, out of style) giveaway items such as water bottles, cell phone portable power banks, and tote bags.

Our socks are also fully knitted, meaning high-quality and more durable material that will make the socks last longer. They are retail quality and top-of-the-line comfort. Plus, all of our socks are made right here in the USA! We are proud to support American workers and do our part to reduce our carbon footprint.

We are also proud to have a strong giveback program where we will match your order to any organization of your choice! We partnered with a few local Austin organizations that you can choose from as well, which are all amazing and fulfill such a need in our community. I personally take pride in volunteering after hours and seeing the impact sock donations have on those in need. Learn more about our giveback program here and reach out to your account manager with any questions.


Event Promotion With Custom Socks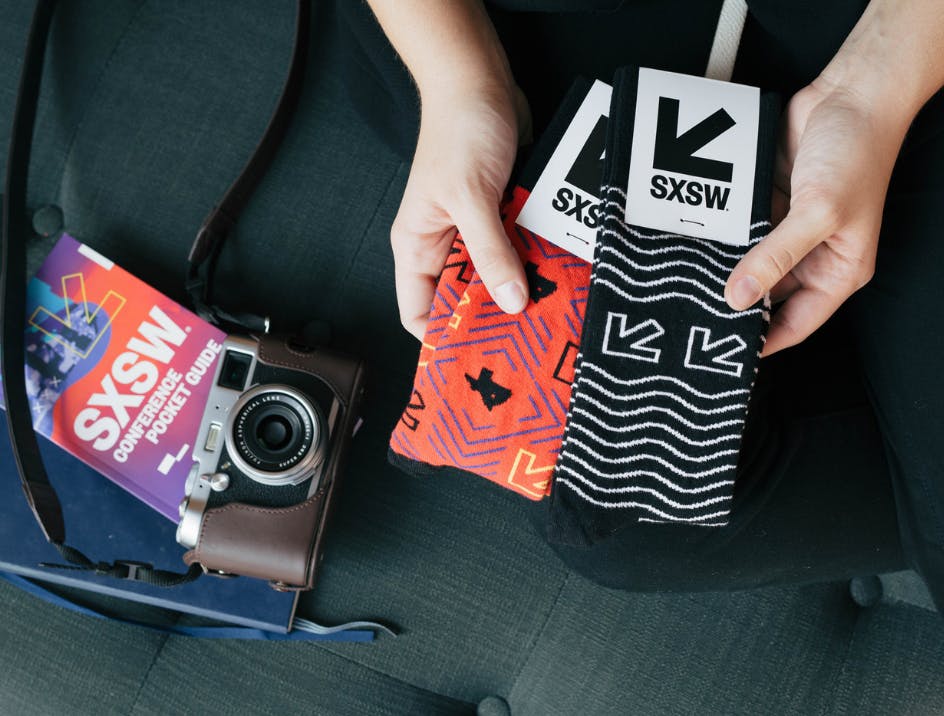 Wondering how to best attract potential clients to your event? Promotional items are a key way to get people into your booth and eyes on your product/service. Let's focus on how you can optimize your booth with promotional products to be the most effective at any event you attend.


Event management and event marketing strategy is very important, so make sure you have a dedicated member to schedule and plan in advance for your upcoming event. They will want to check out the event website landing page to know when and where your booth will be, so you know what to expect.


There are also various marketing channels that can aid in making sure your event is successful, such as email marketing, where you want to make sure you have a strong call to action regarding your booth. At our ASI Chicago booth this year, we were promoting our online webinar where each participant had the chance to win an iPad plus we were giving out branded socks (of course!). Our booth was never empty to say the least. Make sure your trade-show booth is a smashing success with this secret in-depth guide.


At every event, brands will be giving out giveaways to attract potential customers and help grow brand awareness. Your event manager will want to make sure they have giveaway items ordered and ready to go- but not just any items, ones that are desired by potential customers. This is where custom-branded socks come into play. Learn more about why custom socks are trending with this blog post. 

That's all for now folks! Thanks for tuning in.