Published July 28, 2022
Employee Spotlight: Sarah Schultz Operations
A series dedicated to meeting the minds behind Sock Club's best-selling custom socks. We want you to meet one of our spectacular Operations team members, Sarah Schultz!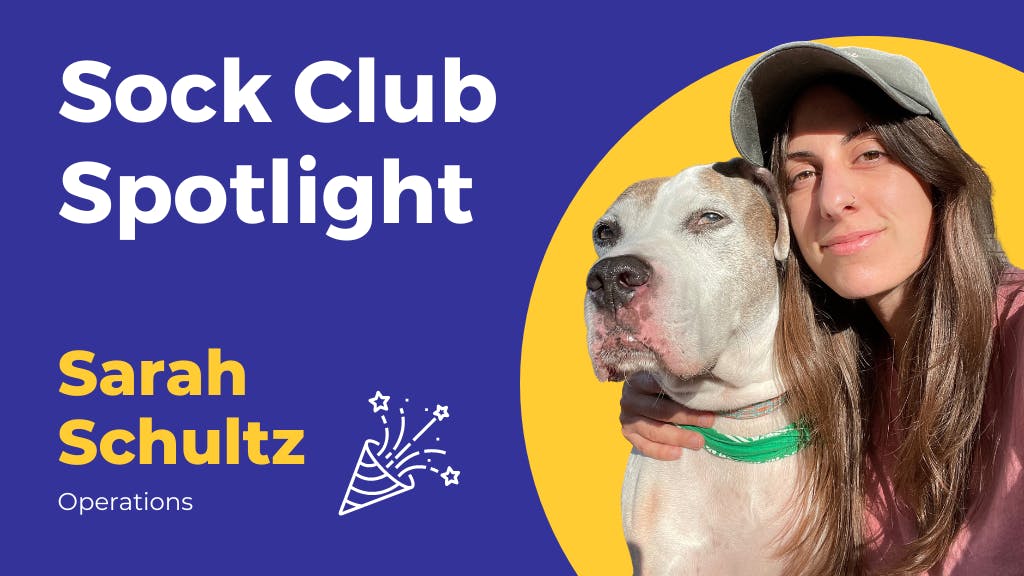 Let's Get Right to It!


Our Operations team is the muscle behind our custom sock business. They make all the magic happen behind the scenes so we can deliver you the highest quality socks with the fastest turn. All logistics regarding transforming our FREE sock mockups into physical woven socks and delivered right to your door are planned and executed by our incredible Operations team.

Working with our mills in North Carolina, we ensure our socks are produced with the highest quality materials grown and sewn right in the USA. Establishing a strong relationship with our sock manufacturers, we make sure they have all the machines and tools needed to keep up with our orders- while maintaining our high standard of quality. Since our custom orders have grown tremendously, we recently added 10 new knitting machines!

We are proud to have our socks made in the USA, as we believe it is essential to support American workers and do our part to reduce our carbon footprint. Being in a relationship business not only with our clients but our mills, our head of Operations makes sure to visit our mills regularly to ensure our connection is strong and our Operation team members maintain constant contact with our mills.

We pride ourselves in offering the fastest turn times in the custom sock game, with a five-day turn. We even offer no rush fees to be as convenient as possible for those projects that need to be completed asap. On our 10th Anniversary, taking a look back at how far we have come and our ability to continue lowering our turn time while maintaining our high standard of quality is quite exciting.

One of the most methodical, hard-working members of our Operations team is Sarah Schultz, and I am excited to have you get to know her! Sarah works closely with our internal teams and external vendors to make sure orders are produced efficiently and meet the timeline and quality our clients have come to expect and appreciate. She is also a team player, going out of her way to make sure things are taken care of and helping out other internal team members when they are in a pinch. Sock Club is lucky to have her for 9 months, and we hope for many more!

When asked to describe Sock club in three words, she said, "Authentic, Agile, Unfinished; We're a small and mighty group. We work quickly, and don't stay stagnant in our success - there's always more to learn and build." Sarah has contributed tremendously to the growth mindset at Sock Club, always aiming to better our systems and push herself. When asked who or what inspires her, she said, "I'm inspired by the supportive team environment at Sock Club." With weekly meetings aligning the Sock Club departments and a friendly company culture where everyone wants each other to succeed and grow, Sarah contributes to the positive and supportive company environment.

What you may not know about Sarah is that when she's not working or hanging out with her pups, she tends to spend her free time playing music - rehearsals, recording or playing shows with a few local projects. Make sure to check out her band, Sun June, they are seriously talented!

We asked Sarah what her favorite pair of socks (thus far) have been and she said, "We make a lot of GREAT band merch, but my recent favorite collaboration is with an El Paso-based artist, Patrick Gabaldon. His work is regionally spirited, vibrant, and transfers incredibly well to the knitted form! Check it out and support the arts!" These are definitely one of my favorites as well, with bright colors and unique designs, they are for sure a work of art. Check out our client spotlight featuring Patrick Gabaldon to learn more about transforming his artwork onto socks!

Here are some last fun facts about Sarah! The last book she read was Nives by Sacha Naspini and the first concert she ever went to was The Beach Boys with her dad (sans Brian Wilson), though she got to see Brian Wilson perform Pet Sounds together in its entirety a few years ago! One last fact is, that the next place on her travel bucket list is Vietnam.

We hope you enjoyed getting to know Sarah a bit more, and the value she brings to Sock Club not only professionally but personally. I hope you have the chance to see Sarah at one of her shows, it would be a shame to not have her musical talents shared with everyone. All of us at Sock Club are lucky to have her and we are excited to continue watching her grow and accomplish whatever she puts her mind to!