How to Drive Traffic To Your Trade Show Booth: 10 Proven Strategies
Below is a list of trade show marketing ideas to increase the traffic of qualified leads to your booth during the show.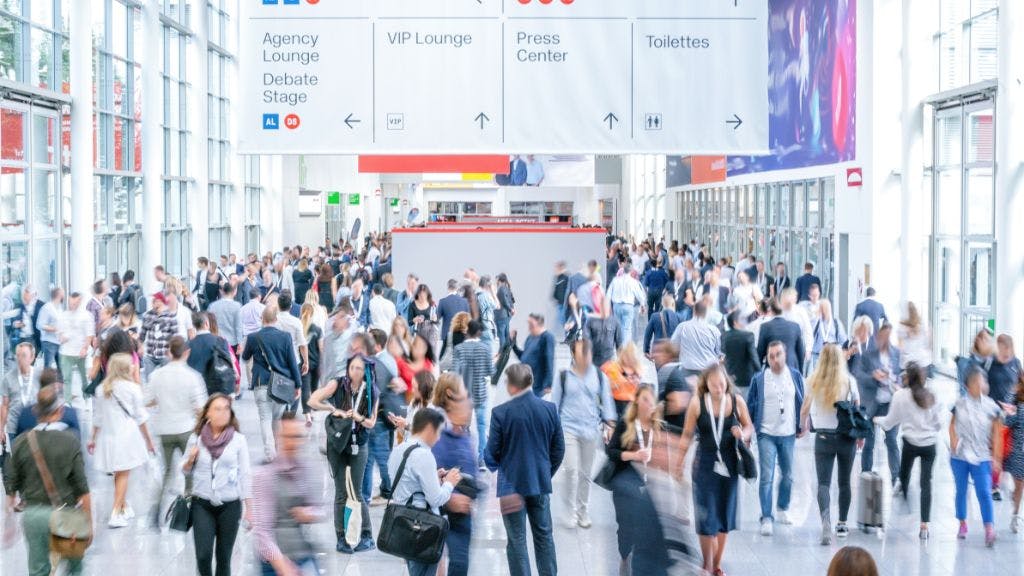 Reports indicate that 40% of events this year will be either virtual or hybrid, yet it is difficult for virtual gatherings to mirror the impact of an in-person trade show (BlueJeans and Forrester, 2021). 


Therefore, the majority of exhibitors are eager for the opportunity to return to in-person events, with 95% indicating that such events are preferable to virtual ones. Moreover, according to 52% of business leaders, trade shows and events deliver more ROI than any other marketing channel. Evidence of this is seen in the fact that 14% of Fortune 500 companies reported a 5:1 ROI from their trade show exhibition, meaning $5 was earned for every $1 spent. 


The success of a trade show is largely contingent on the amount of qualified leads that visit your booth. Below is a list of trade show marketing ideas to increase the traffic of qualified leads to your booth during the show.


1. Establish Goals and Objectives

One of the first things you need to do before stepping foot in the booth is determine what your specific goals and objectives are.


What is your larger vision for participating in the show? What do you want to achieve from the booth? How will the show help you move your business forward? How will it help you achieve your marketing and sales objectives?


The goals and objectives you set for your next trade show are critical for success. They will determine how you spend your time, how you staff your booth, and what you need to do to make sure you get the most out of the show. They will also help you define your strategies, tactics, and booth activity ideas for the event.


2. Promote Your Participation Early
While the show may be a few months away, you need to start promoting your participation as soon as you've confirmed your attendance. This will build excitement around your brand and product. You can start promoting your participation the moment you book the booth space. 


You can also promote your participation on social media, email marketing campaigns, and other digital marketing channels. You can also reach out to local media to generate coverage and attract visitors. This is especially important if you're hosting your event in another city where you have minimal brand awareness. 


You need to let trade show attendees know about your event well in advance so that they have enough time to plan for it. Once people know about your event, they will start looking for information about your company and its products and services.


Specifically, traveling to a different location is a great opportunity to reach out to target potential clients or accounts that you would like to grow and book separate meetings. Leveraging that travel cost into more personal touch points can increase your ROI in a major way. 


According to the Harvard Business Review, in-person meetings are 34x more successful than an email, so getting physically in front of your prospects might yield even more success for the trade show.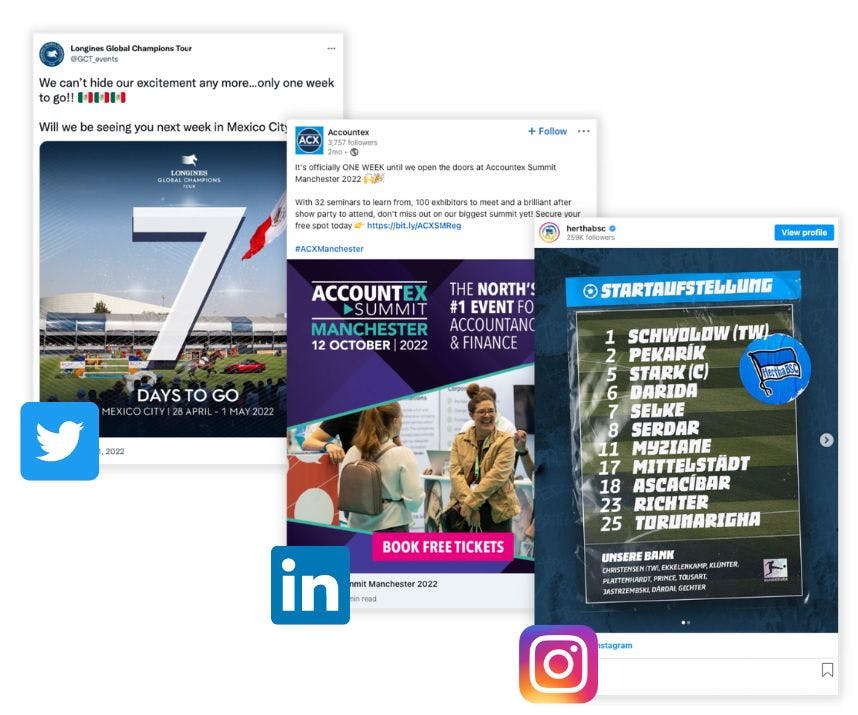 Some examples of companies using social media for trade show promotion from The Longines Global Champions Tour, Accountex, and Hertha BSC.



3. Use Social Media to Your Advantage
The live event marketing landscape has changed drastically over the past few years. This is, in part, due to the fact that so many events are now online and virtual. While live events still offer unparalleled networking opportunities, promoting your event online can be a valuable source of engagement and a way to prepare for the exhibition booth.


To increase the amount of traffic to your booth at the show, you should consider participating in social media contests and promotions that are hosted by the event organizer and exhibitors. Social media channels like Facebook and Instagram have millions of users and a majority of them are visual people who love to share information and content through images and videos.


You can even promote your own fun trade show booth ideas like a prize wheel or other trade show games designed to get trade show attendees to leave behind their business cards for a follow up.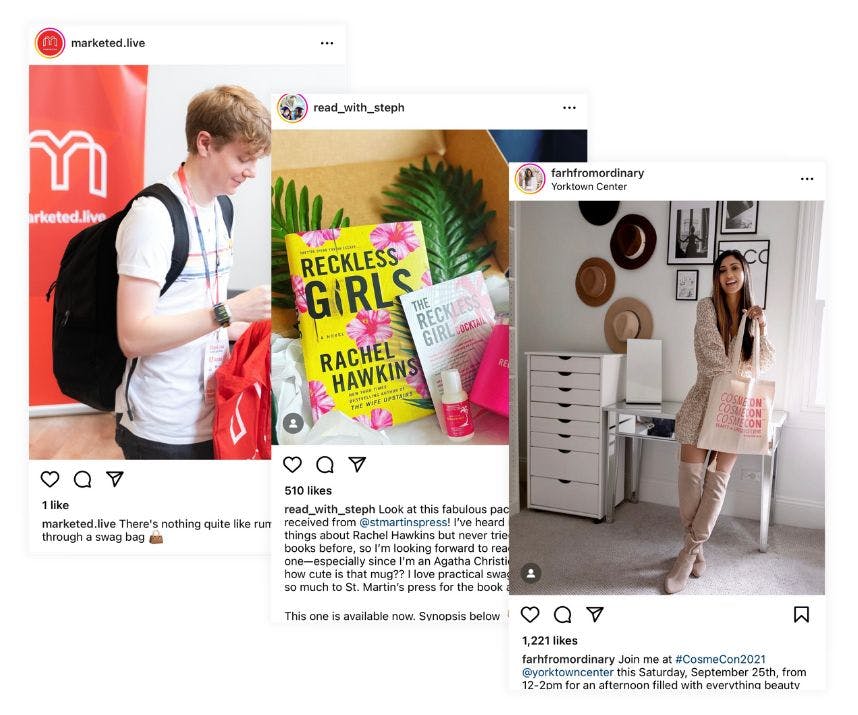 A few examples of what a swag bag looks like and how it could be used for promotion from @read_with_steph, @marketed.live, and @farhfromordinary on Instagram.


4. Get Your Brand Name Out There
Visitors to your booth and potential clients are most likely to be people who are in your industry. So, it's important to get your brand name out there by letting these people know that your brand is attending the show. What's more, your prospect can get an impression of your brand through the swag bag before they even set foot inside the expo hall.

That's why you should consider getting your brand name out there by including it on the promotional materials, promotional products, and other items that you hand out during the show. According to Zimmer Communications, 25% of people report having more positive impressions of companies after receiving their promotional products via swag bags.

So, while small trade show booth ideas might seem like the only opportunity for success, it's important to think beyond the booth to every other touchpoint that your prospect might encounter.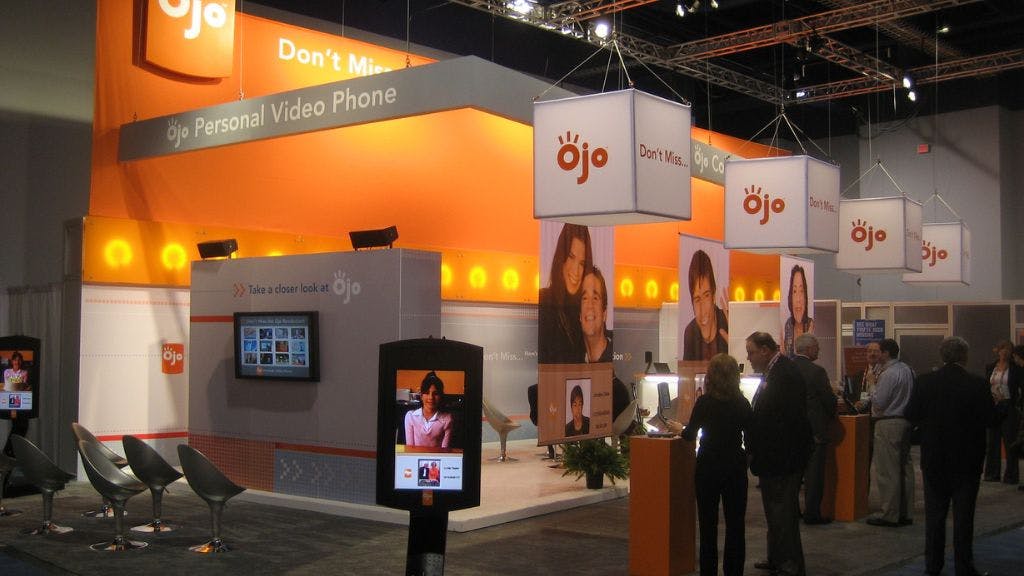 Great trade show booth design from Ojo at CES from user Nick Gray on Flickr.


5. Use the Power of Visuals
The power of visuals is immense. Humankind has evolved to be highly visual, and this is especially true for people at the event who are there to make buying decisions.


Therefore, it's important to incorporate visual content in your trade show display ideas, booth design, and layout. You can do this in many ways. You can use posters, large images, video walls, and product demonstrations to display your products and services visually.


Product demos are especially useful because they also provide an auditory element, which can draw the ear of your audience as well as their eye.



6. Encourage Networking
You can encourage networking at your booth by setting up a social media lounge where visitors and potential leads can connect with each other. You can also encourage and facilitate networking by setting up a gift lounge where visitors can go and get free gifts for their effort.


A successful exhibition is one where solid new relationships are formed. How to have a successful booth at an expo is to facilitate connection and create lasting bonds.


7. Take Advantage of the Location
If your event is being held at a resort, hotel, or convention center, you need to take advantage of the fact that there are other things going on nearby. You can do this by setting up a display board that directs your visitors to other places they can go, such as a nearby restaurant, lounge, bar, or park.


You can build the trust of your visitors by building out trade show booth ideas to attract traffic visitors that inform your prospects of not only information about your product or service, but also information that will help them have a successful show.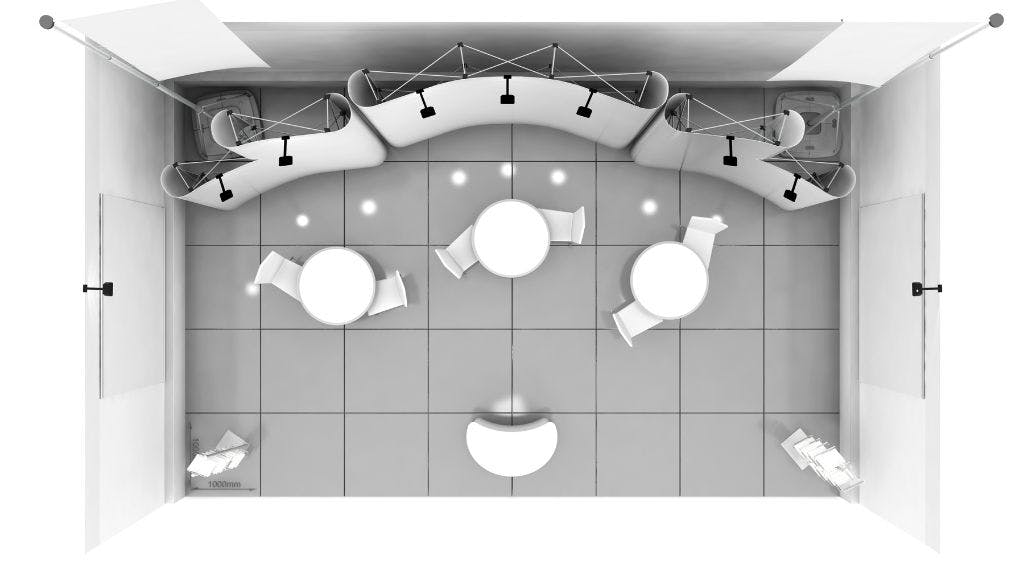 An example of a trade show booth floor plan.

8. Develop a Booth Design and Layout
When designing and laying out your trade show booth, you need to keep several things in mind. You need to make sure your booth is easy to navigate. You also need to make sure your booth design reflects your brand and is easy to read. You also need to ensure that your booth design and layout is engaging and eye catching enough to capture the attention of visitors and make them want to stay in the booth longer.


9. Offer Giveaways and Prizes
People love free stuff and giveaways are a great way to encourage your visitors to stay in your booth longer. You can offer giveaways such as free gifts for their effort, free branded items, free food and beverages, or free tickets to events.


You can also consider offering special prizes for people who accomplish a specific goal, such as signing up for your mailing list, following you on social media, or referring friends to your booth.


The prizes don't have to be expensive. You can give away special branded items like custom socks, t-shirts, mugs, and pens. However, high quality swag items are far more likely to make it back with your prospect in their suitcase, so it is important to consider what you want the end use to be.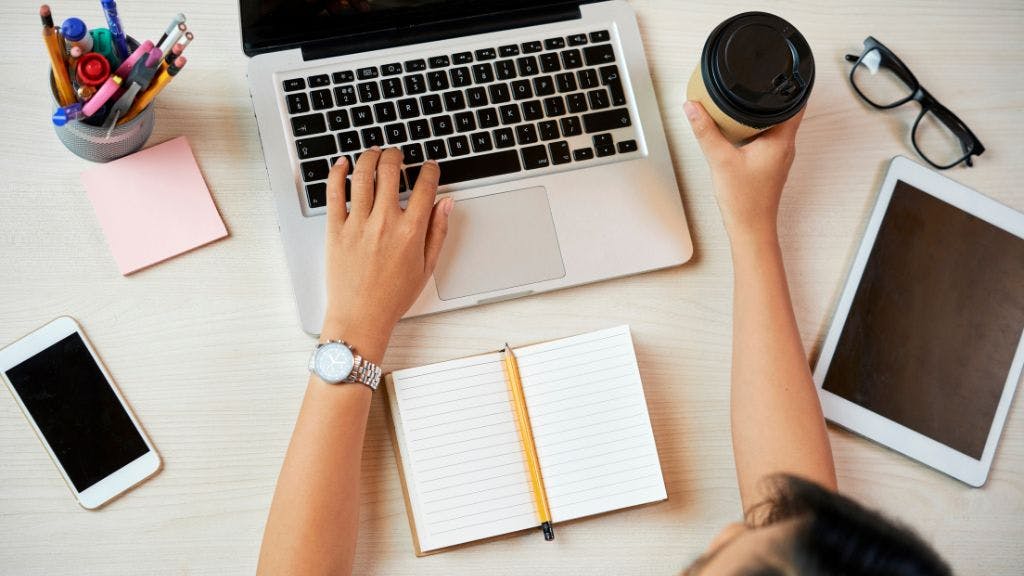 10. Follow Up After the Show
Once the show is over and you've packed up your booth, it's not time to sit back and relax. The real work begins after the show is over.


The next thing you should do after the show is follow up with the people who visited your booth. Ideally, you should follow up with your new leads and customers within 48 hours of the show. However, you can also follow up with them after a week or two.


You can use email marketing, snail mail, or social media posts to follow up with these leads. Make sure that you thank them for visiting your booth and for taking the time to talk to you.



For more information on event marketing, see our related posts 5 Tips for Hosting A High Converting Virtual Webinar and How to Create a Successful Event Marketing Strategy.