Trade Show Giveaways and Conference Swag
Custom socks are the perfect trade show giveaway and conference swag! They're unique, memorable, and effective at promoting your brand. Plus, they're something that people will actually use, so you can be sure your message will be seen and remembered.

Let our team of sock designers show you how custom socks can help you drive booth traffic. Completely free, no obligation to order.
Custom socks are the best conference swag.
Here's why.
Finding the best trade show giveaways can be a daunting task. Here's a few reasons we think socks are the solution to your problem.

Our one-size-fits-most option fits a Women's size 6 to a Men's size 11. No more leftover t-shirts to store!

Socks can be an affordable giveaway option, especially when ordered in bulk. Ask our sock experts how to keep your per piece cost under $5.

Socks are pretty hard to break in transit, so you know that your tradeshow giveaways will arrive intact. We can also easily ship to multiple locations, and hold shipments for future shows.

Your prospect might not be able to fit that huge water bottle in their luggage on the way home. Socks almost guaranteed to make the cut getting into the suitcase on the way home. Your prospect may even wear them on the plane ride home!

Different events, different messaging
Order our socks in bulk to save on cost, and customize our header cards to feature event-specific QR codes, hashtags, or URLs. Let your swag do your tracking for you!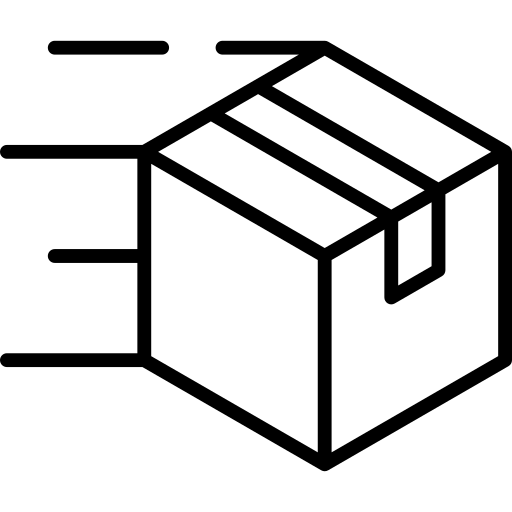 Last-minute changes are almost expected in event marketing. With our 5-day (or fewer!) turnaround, we can be your "in case of emergency" button for quick turn corporate giveaways.
Trade Show Giveaway Ideas
A few of our favorite ways that our clients have used branded socks as trade show promotional items.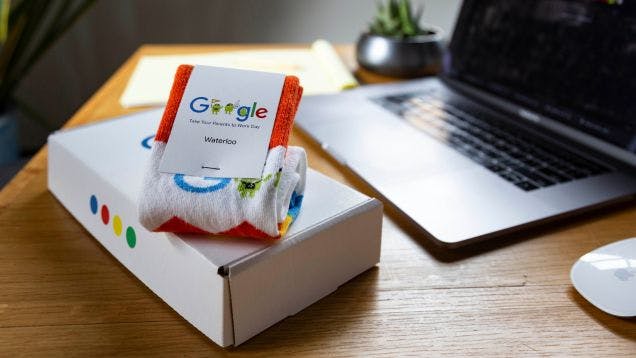 Socks in a Box for Virtual Events
Our Sock in a Box not only looks like a gift, but it can be individually mailed to event attendees. Simply provide us with a list of addresses, and, for a small fee, we will be happy to mail them out individually for you!
Learn About Gift Boxes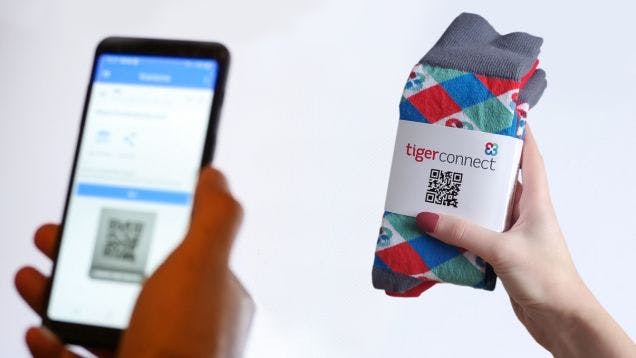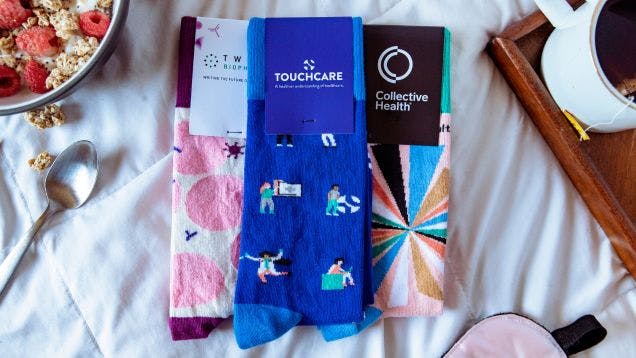 Want more swag ideas for events?
Download our Event Swag Lookbook for more creative ways to use custom socks for tradeshow giveaways and conference swag.
The most creative ways our clients have used custom socks to achieve their event goals
Our product recommendations (what and why)
Our Recommended Conference and Trade Show Giveaway Items




















We Make Custom Socks Fast and Easy and Here's Why:

We get you fully custom, fully woven socks in only 5 days. We never charge rush fees, so we can probably beat that for free - just ask!

Our 60 pair minimum for fully knitted custom socks is one of the lowest in the industry.
Our Flagship socks are 100% made in the USA, from the cotton that the yarn is made from to the boxes that they ship in.

No setups, no rush fees, no design fees. Our pricing is easy and transparent, and you always get the best price.

We've got in-house kitting and fulfillment services to take care of your client's entire order from start to finish in just one PO.

You've got options: Whether you need socks in 5 days or socks for 5 dollars, we've got a sock for that. Any length, no show to knee high, full size range, Baby to Adult Large.
Learn How Companies Like Yours Have Used Custom Socks for Conference and Trade show Giveaways.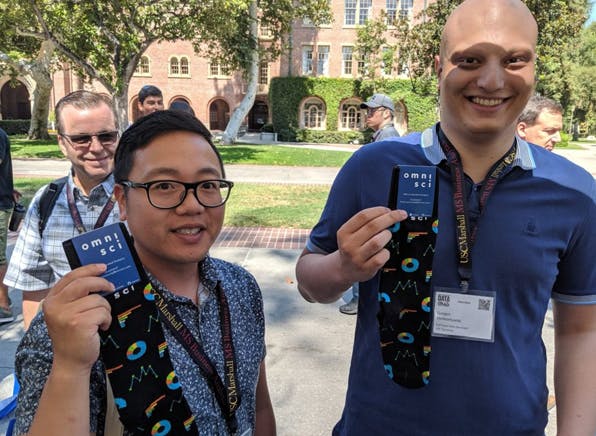 "All 100 socks were gone in within 30 minutes. Our popularity of swag made us a hit, and also garnered interest in our product and company. The end to end process was great - we even had our socks designed for us, and they turned out amazing! We'll be continuing to use their products for future events."
Read Full Story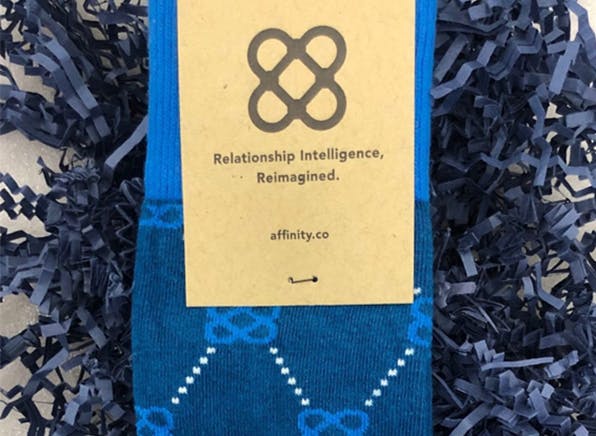 "We were searching for a unique branded item that could be easily shipped to our customers and prospects. Our team and prospects love them so much we had to order more."
Read Full Story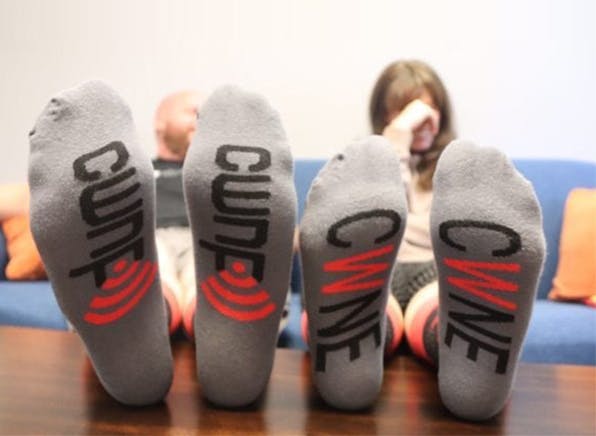 "Conference SWAG can get boring and bland, but these socks have been a HUGE hit with our audience and I look forward to showcasing them year after year."
Read Full Story
Sock Club Frequently Asked Questions
Have questions about our custom sock design process?
Or how to use custom socks for Conference or Trade Show Giveaways?
Look no further! We've got all the information you need to know right here, from designing your own socks to buying them in bulk.
What material options are available for custom socks for Trade Show Giveaways?
How do I choose the right size for my custom socks?
Can I customize the design and color of my socks?
What is the minimum order quantity for custom socks?
What is the typical turnaround time for custom sock orders?
Can I request specific packaging for my custom socks?
Can I get a sample before placing a bulk order for custom socks?
How do I submit my design for custom socks?
Are there any additional costs associated with customizing socks?
Still unsure about using custom socks for conference giveaways?
Custom Socks Unique to Your Brand Make a Lasting Impression
Cut through the clutter with your socks custom to your company and brand! Whether you're planning on custom socks with logo, company colors, a slogan, or art - these give away gifts are a unique opportunity to to get people excited and engaged with your brand! And because they're totally custom to you, they make for unique trade show giveaways to help you stand out!

Fun and custom crazy socks are all the rage, when someone walks away from your trade show booth or conference they'll be walking away with a piece of your brand and a memory of that time. When people look or wear your custom logo socks swag giveaway not only are they walking billboards for others but they also keep you top of mind for clients and prospects!

Work one-on-one with our professional design team to get free custom sock designs and see virtual options for designs that meet your trade show giveaways, conference swag, or give away gift needs. Send us your logo or thoughts to let Sock Club bring your best swag ideas to life!
Custom Socks are Swag Giveaways People Will Actually Keep and Use
Unlike pens, stress balls, or tote bags, you can never have enough socks. That's why they are incredibly useful conference mementos that won't end up in the trash, especially when you're gifting high quality custom socks. Your give away gifts are a reflection of your brand and company so it's important to invest in a product people will use, keep, and think fondly of!

That's why we specialize in creating custom knitted socks made out of the highest quality cotton all sourced and manufactured in the USA by our custom sock manufacturer facilities. From working with mom-and-pop brands all the way to Fortune 500 businesses, we've figured out what people get really excited about when it comes to receiving custom socks as conference giveaways. Learn more about our best-selling options and see what's right for you!
Custom Socks are Versatile and Universal
Everyone wears socks! Our custom socks are the best trade show giveaways and conference swag because of how versatile and universal they are. Our custom socks are unisex and offered in a one-size-fits-most option, so you don't have to worry about ages, genders, or sizing!

Plus because of the size and weight of socks they make for perfect trade show giveaways to hand-out, conference giveaways to place in a bag or kit, are simple and easy to ship office swag to event location, and lightweight give away gifts for recipients to take home with them!

We're obsessed with how great custom socks are, if you want to dive deeper you can learn more about custom socks other than as amazing conference gifts and unique trade show giveaways below!
Get Started on Your Free Design
Join over 72,000+ companies who have designed custom socks for their brand.