Published August 9, 2022
How to Enhance Company Culture with Merchandise Branding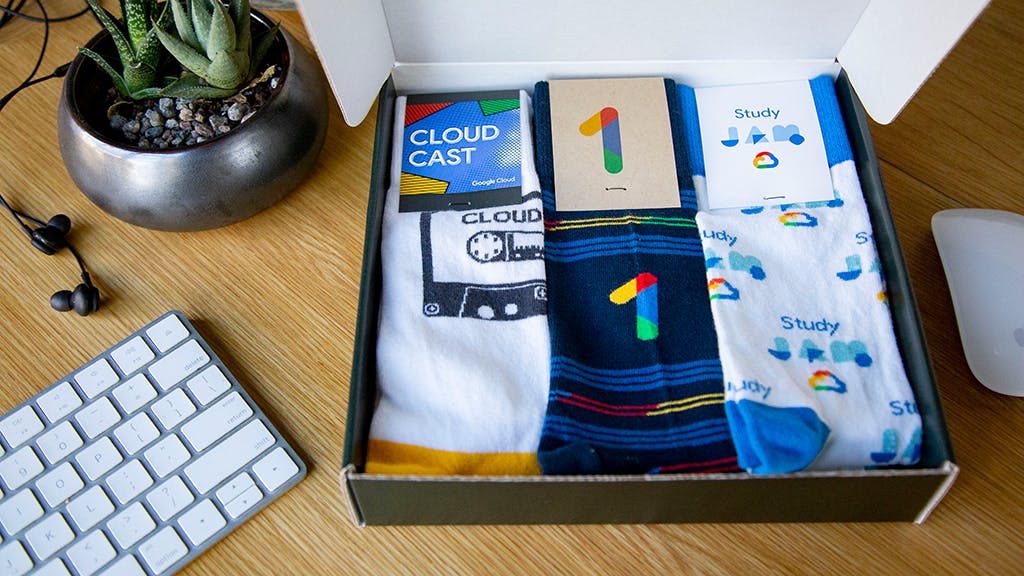 Since the COVID-19 pandemic in March 2020, over 16 million people in America were forced to work remotely. With this change, it is important for business owners to consider the best way to promote their company and engage remotely with other employees. 

To maintain productivity and employee satisfaction, employers need to focus on employee appreciation and growing their company culture. There are several ways to enhance your company culture using merchandise branding, specifically using branded socks. 

The process of choosing the right branded merchandise can seem daunting. In this blog, we will discuss everything you need to know about how to use merchandise branding to improve your company culture. We will also provide a few tips to help you use promotional socks effectively as your company swag.


What is Company Culture?
The Harvard Business Review's Guide to Company Culture defined organizational culture based on four major characteristics. They include the following; 


Company culture is shared
Company culture is pervasive
Company culture enduring
Company culture implicit


Generally, company culture is the norms and environment that define your team. This includes their collective value, motivation, behaviors, assumptions, and the attitudes they all contribute which make up your company culture and dictate the team identity of each department.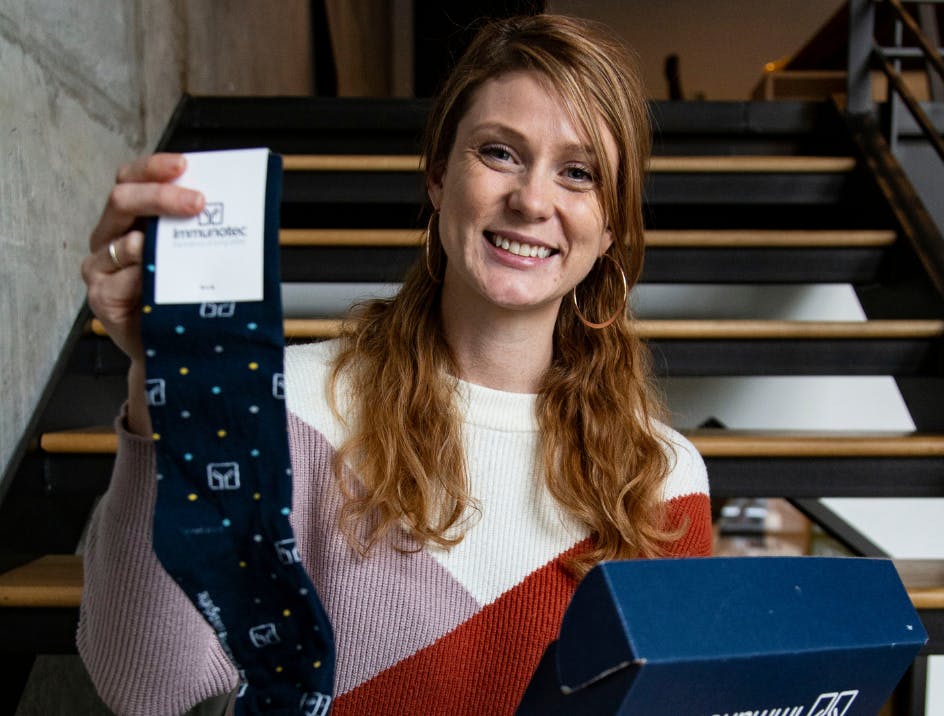 How Can Custom Logo Socks Be Used to Enhance Company Culture?
High-quality custom swag, like a pair of socks with a logo, can be utilized in many ways to enhance company culture. Even starting with the sock design, you can get your whole team to contribute to the sock design process and combine everyone's great ideas to create branded merch that everyone loves. 

Once you create a custom sock design that everyone loves, here's how you can utilize your new company swag gifts. 


#1. New Hire Gifts
Starting a new job can be intimidating and if you're starting remotely, it can also feel isolating. A custom swag box can be used to make new hires feel welcome and part of the team. 

Custom logo socks from Sock Club are one-size-fits-most so you can buy custom socks in bulk and not have to worry about keeping every size on hand. This helps prevent you from having to hold off on delivering a new hire gift because you have to wait for the right t-shirt size. 

A custom new hire gift with team swag or custom athletic socks can get new employees excited to work with you. 


#2. Celebrate milestones
What better way to celebrate 10 or 15 years in business than to include custom branded socks in your custom swag box for employees? Most businesses thrive due to the effort and hard work of their employees. 

So, while celebrating each milestone your company achieves, think about employee appreciation gifts so you can remind them that they are a part of this accomplishment. 

The key to achieving this unique swag idea is to be thoughtful with the products you choose to include in your swag pack for team members. If you're looking for other company swag ideas, beyond custom socks, click here.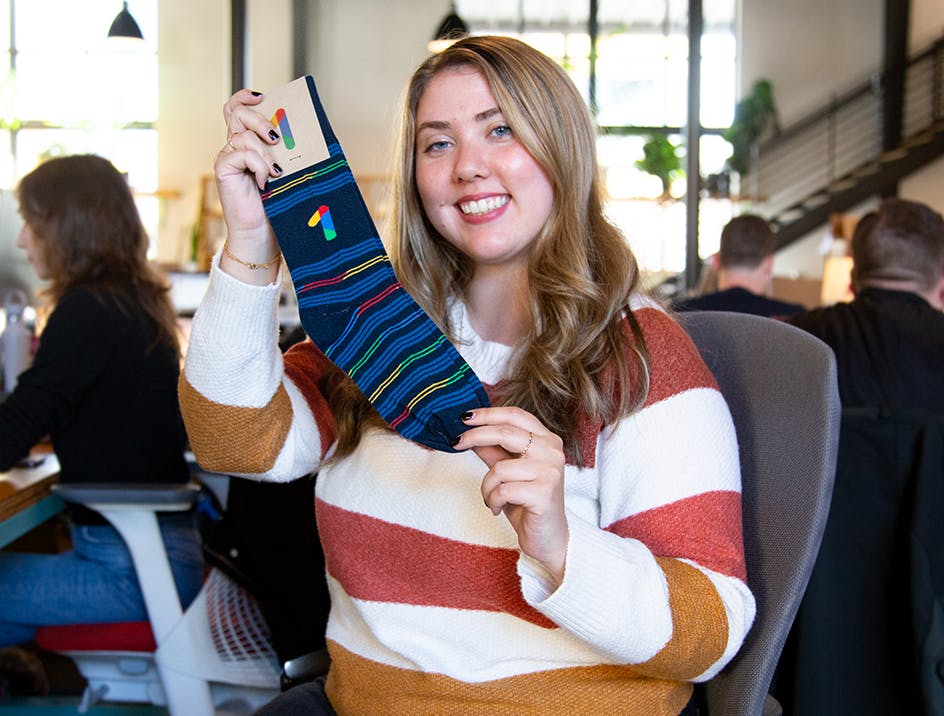 Why Should You Invest in Company Swag?


#1. Company Swag Builds Team Culture
Company culture is essential to any organization's long-term success. Swag items can help your employees feel appreciated and recognized while creating a sense of camaraderie. In turn, this will help increase productivity and decrease over-turn. 


#2. Branded Merch Can Be Used in a Company Swag Store
Branded swag can help drive profits. Whether you're selling custom swag to employees or customers, it can be a strong source of revenue. If you work with a swag company to design custom wholesale socks you can re-sell them at a higher price in a company store while also receiving a free promotion from people who wear your brand. Word of mouth is one of the most powerful forms of marketing for any company. 


#3. Promotional Products Can Help with Advertising 
One of the best ways to market your business is by giving customers and employees custom dress socks. Whenever someone leaves their house wearing custom socks with a logo, you are receiving free impressions for your brand. 


Conclusion 
Branded merchandise can help your employees feel recognized and appreciated. In turn, this will help with productivity and your turn-over rate. A unique swag idea that has unisex sizing and designs in custom logo socks. Sock Club is a custom sock manufacturer that will create free sock designs in 1-2 business days and ship your logo socks to you in as soon as 5 business days. 

We are real people who answer the phones with expert designers and account managers who care. To improve your company culture and get started on your custom sock design, send us your logo. If you want to learn more about enhancing your company culture through appreciation gifts, then be sure to check out our Guide to Appreciation Gifts!