Published April 2, 2023
How to Find the Best Custom Sock Manufacturer
Looking to get into the custom sock game? No matter what custom sock you're looking for, it's important to pick a sock manufacturer that is able to meet your needs. We'll cover how to best pick a sock vendor that is right for you.
Katreece Hattaway
Director of Operations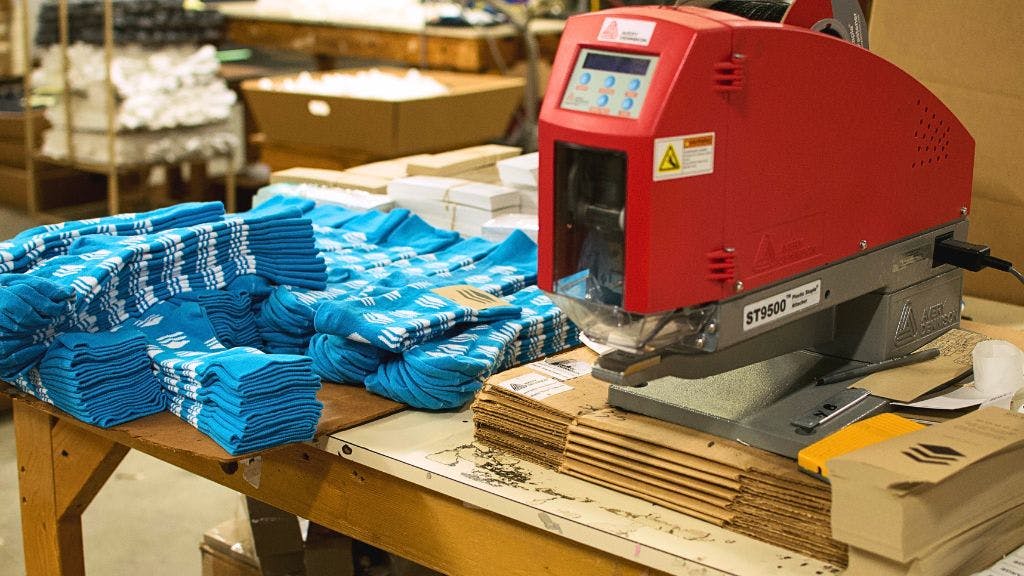 Below are some tips to help you find the best partner to make custom wholesale socks for your company!
1. Do Your Research Online
To find the best sock suppliers, you should first conduct extensive research online. You can search things like "sock manufacturers usa" to find domestic vendors, like Sock Club, or things like "cheap wholesale custom socks" to find vendors overseas.


Your goal is to find reliable companies that can make branded socks. Check out their past work and reviews to make sure they can meet your needs. Some things to consider might be how detailed your logo is on your bulk custom socks, how quickly you need them, or what kind of personalization you want on them.

They should also be a reputable company to work with. Sock vendors who have made custom bulk socks before should have several reviews and case studies about clients that have ordered from them before.
2. Go to Trade Shows
Another way to find the best custom socks manufacturer for your needs is by attending trade shows. You will be able to meet various vendors in one place, have informative conversations, be able to ask questions and establish connections while feeling and seeing their product at the same time.


If you are in the promotional products industry, some great trade shows to attend are PPAI and the ASI Show. MAGIC is by far the most popular US trade show for finding fashion manufacturers.
3. Look for a Referral
Reach out to personal connections and other businesses that have purchased custom socks wholesale. These individuals are likely in merchandise or marketing departments that will be able to offer insight or referrals to help you on your search. They will give you their personal experience and suggestions which are great to factor into your research.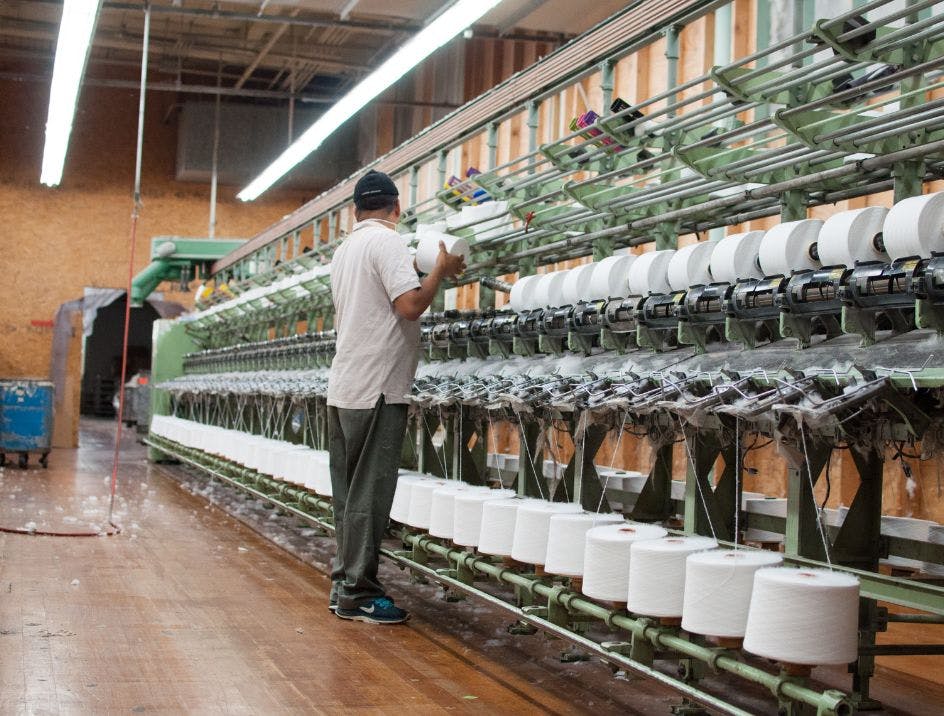 What to Expect from a Custom Sock Manufacturer:
1. Free Custom Sock Design
While creating custom socks with logo wholesale, it is important to consider wholesale sock manufacturers that allow their customers to create free branded sock designs. Some companies will charge extra fees for design help, but at Sock Club we offer free custom sock designs created by real, talented artists, not a computer. We have an in-house team of 12 incredible designers ready to bring your dream custom socks to life!


We also provide free custom sock design templates if you wish to create your own artwork for your branded socks project, however again our designers are always available to help.  
2. Competitive Pricing
Another thing you should consider is the price. Pricing may vary between custom sock types, such as custom dress socks and custom ankle socks, or sock materials, i.e. custom cotton socks vs custom wool socks. You want to make sure you understand the pricing per unit and how it differs from other sock types.


It's also necessary that you pay attention to the competitive price of custom knitted socks in the market. Cheaper doesn't mean better! The total cost of custom branded socks vary because of the quality of the material used, the packaging, and the different manufacturing processes, other fees, the turnaround time, where the socks are shipped from and the level of customization. 


You should get all this information from your custom sock manufacturers before you order custom socks in bulk. This will help you sort out the most suitable deal that won't affect your budget drastically.


3. Custom Sock Materials
Another thing you should pay attention to before you hire a sock manufacturer is the type and quality of the materials used in your custom socks. Many sock manufacturers create their custom knitted socks with synthetic materials to provide elasticity, but this is not the best and most comfortable option because they are not breathable or moisture wicking.


You should look for wholesale custom socks manufacturers who use mainly cotton materials for their custom knit socks. This is most suitable because cotton is a soft, cozy material that both breathes better and easily absorbs moisture. Also, make sure that you get a sample pair of socks before buying custom socks in bulk.


4. Shipping Fees and Speed
While ordering your branded socks, you should consider the shipping fees that may apply to your custom sock order. While some wholesale sock manufacturers provide free shipping on bulk orders, other sock manufacturers will charge you more. Whichever it is, you need to pay attention to the shipping fees before you make your choice.


Also keep in mind potential rush fees if you need an order fast. These can be expensive, but at Sock Club, we don't charge any additional fees- just pay for the socks!


5. Customer Service
The best custom sock company should also have great customer service. It's essential to have an engaged, helpful, responsive and friendly representative from the company to assist you in case a question or concern comes up. At Sock Club, we are real people who answer the phone and pride ourselves with having account managers to help you every step of the way.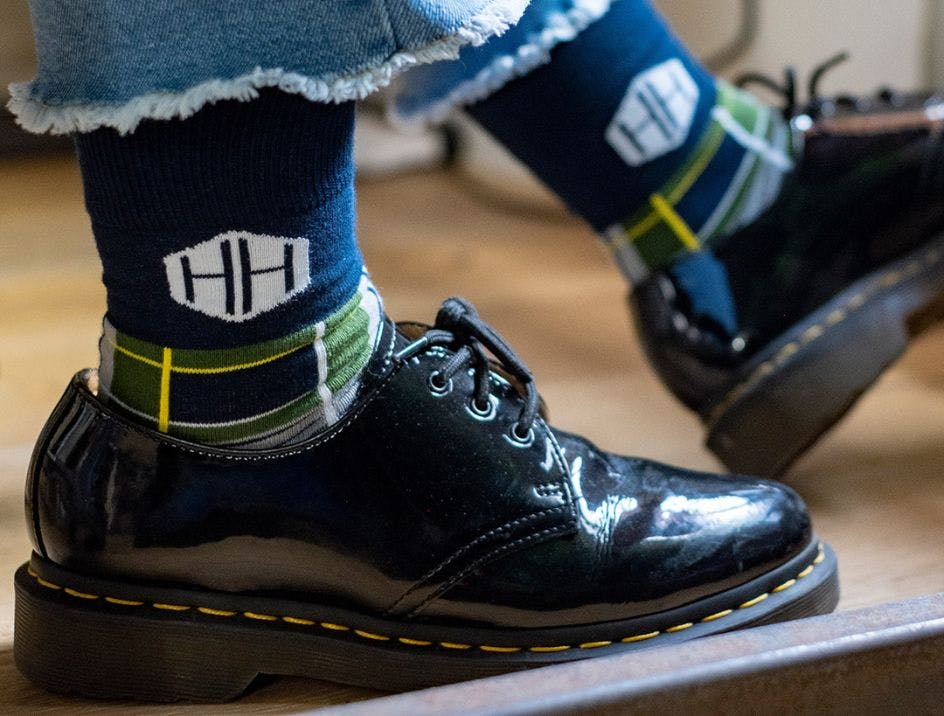 Why Sock Club Is the Best Option
Sock Club is your one stop shop for customizable and stylish promotional socks that are suitable for any occasion! As a premier socks manufacturer, we can help you get the highest quality custom socks with your preferred customized sock design and ship them quickly since our production is only 5 days!


Get started today on your very own custom socks with a logo.