Client Spotlight
Sock Club's Custom Socks Help 1338Tryon Get Quality Products to Support Fortune 1000 Clients
1338Tryon is a WBENC-certified Woman-Owned tangible engagement agency based in Portland, Oregon. They primarily focus on Fortune 1000 companies and the agencies that serve them. 1338Tryon bridges the gap between traditional marketing agencies and branded merch providers.

The 1338Tryon team stand-outs by providing white-glove service and by providing creative program solutions to real business opportunities around business development, recruiting, retaining and re-engaging employees, and providing sustainable event solutions that drive audience behavior.
The promotional products industry has faced several challenges within the past few years. From supply chain disruptions, to shifting the landscape of how promotional products are used, to learning all about how to buy and sell quality PPE, these challenges have felt like entirely new problems that require an entirely new set of problem-solving tools.
Heather Comerford, Managing Partner of 1338Tryon, expanded up on that issue. "Many suppliers in our industry have lost their more experienced people or moved remote work environments so getting accurate product, production and logistics information has been tough the last few years."
An issue that is consistent within the promotional products industry is finding, creating, and selling products that stand the test of time, and don't end up in the trash.
"1338Tryon focuses on extending brand and cultural messages by integrating physical product into our client internal and external marketing efforts," says Comerford. "We don't provide things you "giveaway". We provide curated merch that drives customer loyalty and tells engaging brand stories and resonate with their target audience."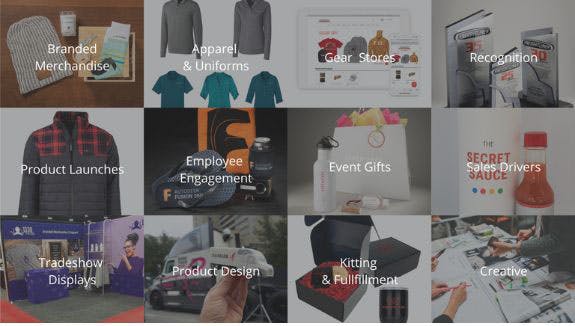 A list of services that 1338Tryon provides for their clients, from branded merchandise to product design



"Finding items that are sustainably sourced, at reasonable minimums, with reasonable lead times and exceptional quality of both product and decoration is key to that customer experience. Sock Club's MADE IN THE USA meets and exceeds all of those requirements."
The Sock Club team met Heather at a PromoMarketing Power Meeting in the summer of 2021. One of the organizers of the event was familiar with the Sock Club team and our product, and spoke very highly of us to Heather (thanks, Chip!).
However, it was an event that did not go as planned that really cemented the relationship between 1338Tryon and Sock Club.
"Where I fell in love with Sock Club was the B2B Marketing event in LA where Chloe and I bonded over a lackluster experience," says Comerford. "But I really felt like she supported our company through-out. The low minimums and great quality are a HUGE part of our continued loyalty as well."
Custom socks have become a regular part of Heather's team's efforts to increase the impact of the crafted storytelling that keeps customers coming back to 1338Tryon.
"Custom socks are always welcomed, provide a great opportunity to be really creative and do not require a size," says Comerford. "So they are great for events, corporate gifts or to reinforce company culture initiatives."
One example of this that Heather pointed to was a project that Sock Club worked on with the 1338Tryon team for Google. The Google team had strict branding guidelines, and even stricter budgetary restrictions, but still wanted a swag item that would appeal to a large audience.
"Sock Club came up with a beautiful design that includes more colors than their competitors could handle," says Comerfod. "The socks are super comfortable and well-received and we have received multiple re-orders."
Luckily, those reorders also turned into new orders from new clients! Comerford noted, "Our client has referred us into other parts of Google and we have greatly expanded our business there over the last year. All because of Sock Club's amazing socks!"
The Sock Club team has enjoyed working with the 1338Tryon team so much over the past few years, and we are excited to see our relationship grow. Not only is 1338Tryon a certified woman-owned business, but the company has also been recognized as one of PPB's Greatest Companies to Work For in 2019, 2021, and 2022, and Heather has been recognized in PPM's 2022 Women in Print & Promo.
We are so excited to see what our teams can come up with next. Visit the link below to get in touch with the 1338Tryon team!