Sock Club's Guide to Mastering Event Marketing
So you're attending an event or trade show for your business, now what…
Here at Sock Club, we attend over 20 trade shows per year! The majority of our business comes from forming partnerships at promotional product events. So, we know a thing or two about forming face-to-face partnerships and event marketing! 

Over the years we've learned (the hard way) to:
always check our packing list twice
bring an emergency supplies kit and
start planning early

But we've also learned a lot of good stuff that's helped us win, like how a post-show email campaign will set you apart from your competition... and much more! 

We always wished there was a trade show checklist that told us exactly what to do, what not to do, and what success looks like. 
So we built one.

Our cheatsheet will fill your socks with tips and tricks on how to master the art of event marketing.


Here's the event marketers guide we wish we had when we first started!


Sock Club's Guide to Mastering Event Marketing will cover:

how to create an effective event marketing strategy
why event giveaways are important (and why custom socks are the best solution)
how to create a captivating trade show booth and 
awesome success stories from people who've done it!



Fast Facts About Event Giveaways
52%
Of attendees are more likely to enter an exhibit if there is a giveaway or freebie (Princeton Marketing)
>60%
Of recipients of promotional products will look the brand up online later (SAGE)
72%
Of consumers say the quality of a promotional item impacts brand reputation (PPAI)
85%
Of product recipients did business with the advertiser who gave them the item (SAGE)
How Companies Like Yours Have Used Custom Socks for Event Promotion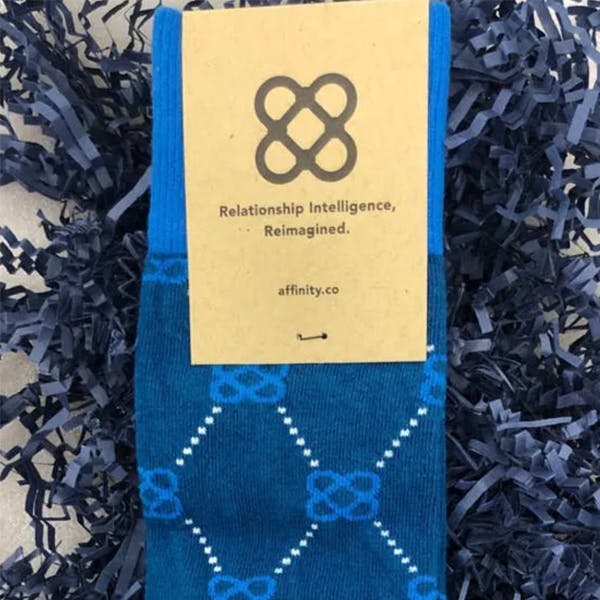 Affinity Delights Prospects with Custom Socks at Trade Shows
There's a new generation of creative apps for professionals, and Affinity is leading the way. Created by a passionate team of programmers and artists, they provide creatives with the best in the industry with high-quality tools, innovation, and reliable apps. As a creative platform, visual representation means everything, and when company swag became a need for an upcoming tradeshow, they needed an out-of-the-box product.

"We were searching for a unique branded item that could be easily shipped to our customers and prospects…Our team and prospects love them so much we had to order more." - Anne Gherini

"When attending trade shows, shipping can become a burden and add up. Sock Club was able to assist with transportation and help make sure the show ran smoothly."
Read Spotlight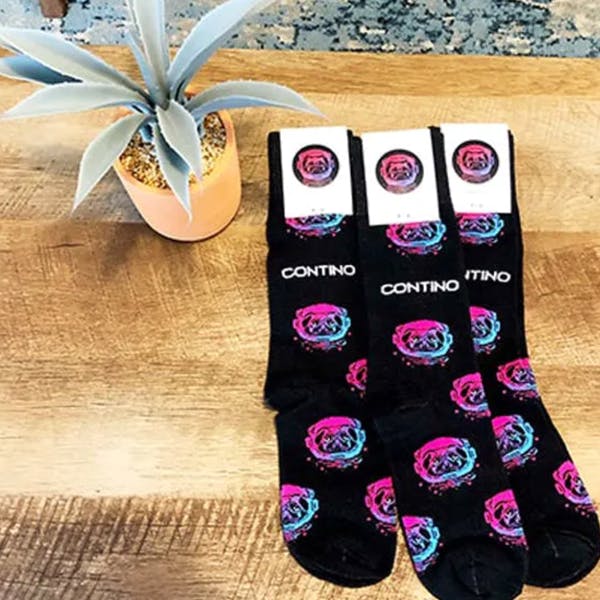 Contino Wows Their Clients With New Trade Show Swag, Custom Socks!
Since 2014 Contino has been able to master and amplify the tech industry. With its competitive edge in DevOps, Data, and Cloud Transformation, this consultant agency has upscaled customer service to its clients.

"We wanted a smaller swag item with our mascot, Maurice, on it and these have gone over exceptionally well with clients and at conferences!"

Trade show swag is best impressionable with the practical nature of the item. For instance, when traveling back home, only a few items can make it in your luggage. Custom socks are one that gets packed in all nice and tight every time. Not only do custom socks have the ability to start a conversation, but the small nature of the product and wearability makes a great gift sure to be worn at your next meeting.
Read Spotlight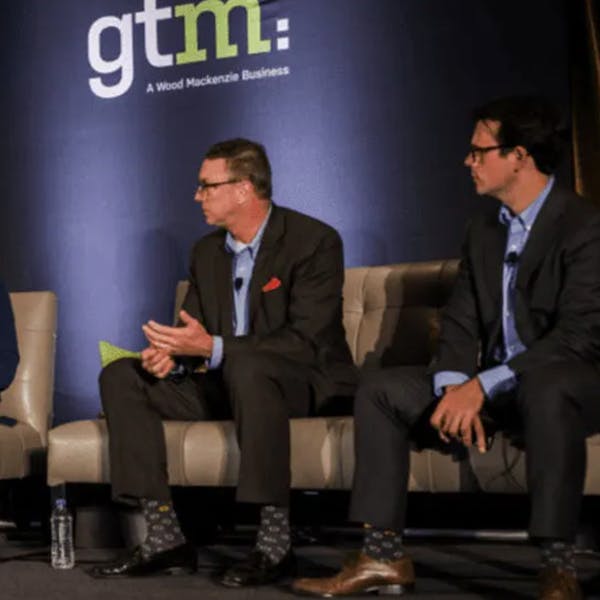 Folsom Labs Creates A Tradition With Clients Using Custom Socks
Market Leader in solar sales software, Folsom Labs is creating groundbreaking HelioScope developments. Residential and commercial are both welcome to receive solar options with high-performance solar arrays for ranging budgets. Built on the foundation that if there is not something in the market that is up to par, make it yourself.

"We founded Folsom Labs because we saw the need for better software tools to enable high growth in solar."

"We've now done two different sock designs. We give them out to VIP customers, and use them as speakers' gifts for the conference we host (the Solar Software Summit). In fact, now that we're on our second design iteration, the change has become a topic of conversation, e.g., people who "have been customers since the first generation of socks."
Read Spotlight
ASI Chicago 2022: My First Time At A Trade Show
Are you going to an in-person trade show soon and wondering what to expect post-pandemic? I'll give you the inside scoop on what trade shows look like now and what trade show giveaways are making a splash. 

My name is Emma and I am a Marketing Coordinator here at Sock Club. I recently got back from my first trade show at ASI Chicago 2022. It feels so good to be back at in-person events! Sock Club is grateful to have attended ASI Chicago in previous years, but I wanted to give you the inside scoop from a first-time attendee. 
Get Started on Your Free Design
Join over 72,000+ companies who have designed custom socks for their brand.