Sock Club's Guide to Mastering Event Marketing
Our marketing team attends over 20 events per year. Here's the event marketers' guide we wish we had when we first started!


Sock Club's Guide to Mastering Event Marketing will cover:

How to create an effective event marketing strategy
Why event giveaways are important
How to create a captivating trade show booth
Our Ultimate Trade Show Packing Checklist



From trade shows and conferences to product launches and promotional events, event marketing creates opportunities to connect with potential customers, partners, and industry influencers. One essential aspect of successful event marketing is the effective use of event swag to attract, engage, and leave a lasting impression on attendees. 
In this guide, we'll explore what event marketing is, strategies for success, the importance of tradeshow giveaways, and some creative ideas for trade show swag and conference swag.
Event marketing is a powerful strategy that involves the planning, organizing, and promotion of events to engage target audiences, enhance brand visibility, and achieve specific business objectives. It encompasses a wide range of activities, including event planning, promotion, execution, and follow-up.

Common types of events in event marketing include trade shows, conferences, workshops, seminars, product launches, networking events, and experiential marketing campaigns.
Objectives of Event Marketing
Event marketing aims to achieve various goals, such as:
Building brand awareness and recognition
Generating leads and conversions
Establishing thought leadership
Strengthening relationships with customers and partners
Showcasing products or services
Launching new products or initiatives
Crafting a Successful Event Marketing Plan
The key to leveraging trade show giveaways effectively lies in strategic event marketing. This process starts with understanding your event and its purpose, then formulating a promotion plan to attract attendees, and finally, executing the plan and analyzing its success.

Before you can start promoting your event, you need to have a clear understanding of what it is and what you hope to achieve. This includes details such as the event's name, theme, tagline, and color scheme. Your understanding of the event will guide your marketing strategy and help you select the best trade show giveaways.

Clearly define the objectives you intend to achieve through the event. Whether it's lead generation, brand exposure, or relationship building, having specific goals will guide your strategy.

Understanding Your Audience
Research and understand your target audience's preferences, pain points, and interests. Tailor your event content and giveaways to resonate with their needs.

Creating Compelling Content
Develop engaging presentations, workshops, or demonstrations that provide value to attendees. High-quality content encourages participation and boosts attendee satisfaction.

Leveraging Digital Promotion
Use various digital marketing channels like social media, email campaigns, and webinars to create anticipation and attract attendees to your event.

Collaborating with Partners
Partner with industry influencers, sponsors, or complementary businesses to expand your event's reach and credibility.

Crafting Memorable Experiences
Focus on delivering a seamless and memorable experience for attendees. Incorporate interactive elements, networking opportunities, and entertainment to leave a lasting impression.

With your promotion plan in place, the next step is execution. This involves implementing your various marketing activities, distributing your trade show giveaways, and engaging with attendees during the event.

After the event, it's essential to measure the success of your efforts. This can include analyzing attendance rates, social media engagement, leads generated, and the impact of your event giveaways.
Going Further: Blogs About Event Planning and Strategy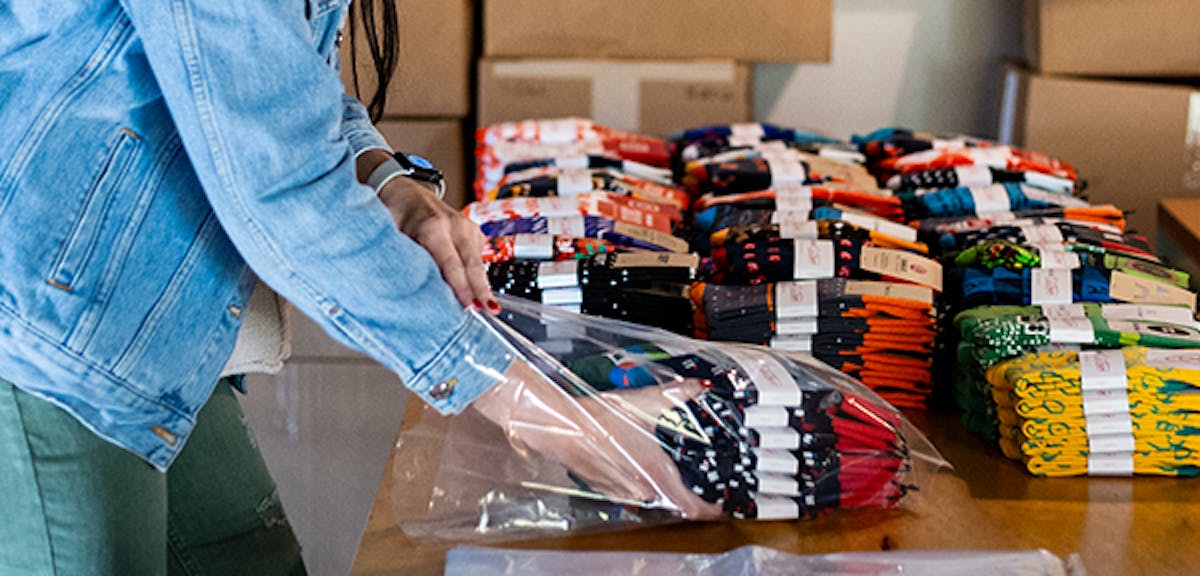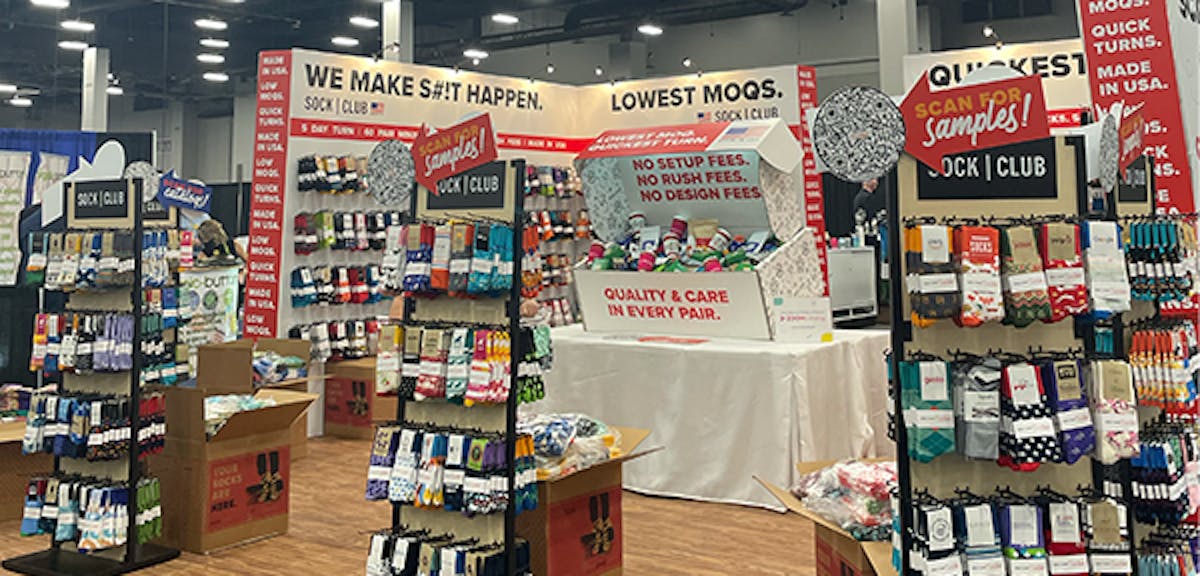 What Makes a Successful Trade Show Booth?
Trade shows are a great way to get your brand in front of a large number of high-quality leads. However, trade show booth execution should not be taken lightly. You need to stand out, offer something different, and be engaging...
Read Post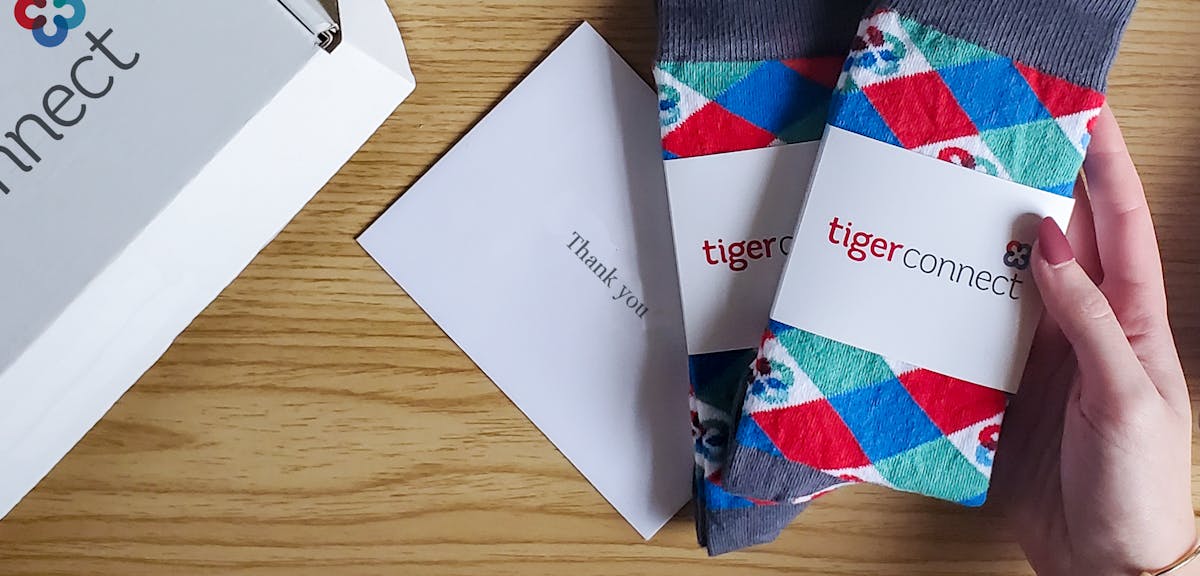 Best Practices for Event and Trade Show Planning and Organization
Begin planning your event well in advance to ensure sufficient time for all stages of preparation, from concept development to execution.
Define specific goals for your event, whether it's lead generation, brand awareness, or networking. Clear objectives guide your strategy and help you measure success.
Develop a comprehensive event plan that outlines tasks, responsibilities, timelines, and deadlines. A well-organized plan minimizes last-minute hiccups.
Utilize event management software to streamline attendee tracking and booth visitor follow up. Embrace digital tools for promotion and engagement.
Design an Eye-Catching Booth
Your booth is the face of your event presence. Create an attractive and inviting booth design that reflects your brand and draws attendees in.
Provide training to your team members who will be representing your brand at the event. They should be knowledgeable about your products or services and skilled in engaging with attendees.
Anticipate potential challenges and have contingency plans in place. This can include backup equipment, alternative presentation formats, and solutions for unexpected issues.
Record event sessions, take photos, and capture testimonials to create post-event content that can be shared on social media and your website.
Connect with attendees after the event through personalized follow-up emails, thanking them for attending and offering resources or solutions based on their interests.
Fast Facts About Event Giveaways
52%
Of attendees are more likely to enter an exhibit if there is a giveaway or freebie (Princeton Marketing)
>60%
Of recipients of promotional products will look the brand up online later (SAGE)
72%
Of consumers say the quality of a promotional item impacts brand reputation (PPAI)
85%
Of product recipients did business with the advertiser who gave them the item (SAGE)
Understanding Branded Giveaways for Events
Trade show giveaways are promotional items that companies hand out at their trade show or conference booths. These items, often branded with the company's logo and contact information, serve multiple purposes. From raising brand awareness to generating leads, fostering customer loyalty to standing out amidst a sea of competitors, giveaways have become an integral part of event marketing.
The Power of Great Trade Show Giveaway Ideas
Trade show give aways are a fantastic way to boost brand recognition. When you distribute items featuring your brand's logo, name, or slogan, you're essentially turning recipients into walking advertisements for your company. Every time someone uses your branded pen, wears your company socks, or sips coffee from your logoed mug, they're reinforcing your brand's visual identity in their mind and potentially exposing others to it as well.
Enhancing Customer Engagement
Aside from boosting brand awareness, conference giveaways can also foster customer engagement. A unique, useful, or fun giveaway can create a memorable experience that attendees associate with your brand. This positive association can lead to conversations, lead generation, and potential business relationships.
Generating Leads and Driving Sales
Company giveaways can also serve as a lead generation tool. By offering an enticing giveaway, you can encourage booth visitors to provide their contact information, answer a survey, or engage in other actions valuable to your marketing and sales teams. Furthermore, the best conference swag can spark interest, leading to inquiries, demos, and potentially sales.
Choosing Effective Trade Show Giveaways
When it comes to picking the perfect swag ideas for events, there are a few key factors to consider.
Firstly, your giveaway should be relevant to your brand and useful to the recipient. Practical items that can be used regularly, such as pens, custom socks, tote bags, or water bottles, are often well-received as they provide ongoing value to the recipient while continuously promoting your brand.
The quality of your giveaways is a reflection of your brand. High-quality items that are durable and well-made can leave a positive impression and enhance your brand's perceived value. On the other hand, cheap, poorly made promotional items for trade shows can have the opposite effect.
Creativity and Uniqueness
Finally, creativity and uniqueness can set your trade show giveaways apart. An innovative or unusual conference swag idea can attract attention, spark conversations, and make your brand more memorable. Whether it's a fun gadget, a custom-designed piece, or an eco-friendly product, think outside the box to make your brand stand out.
How Companies Like Yours Have Used Custom Socks for Event Promotion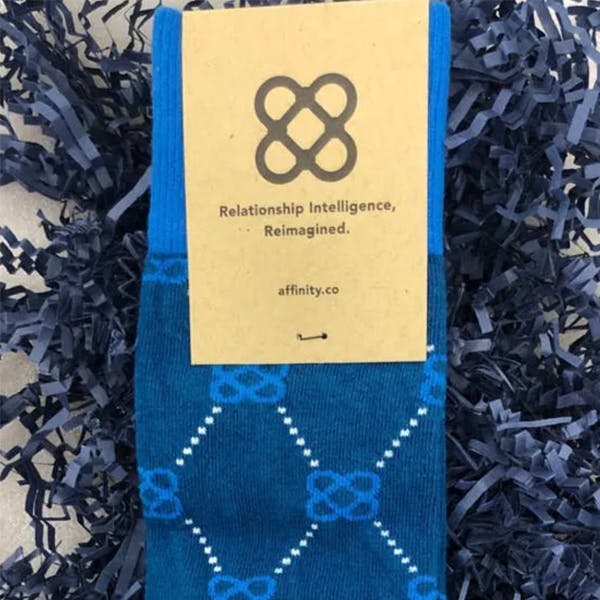 "We were searching for a unique branded item that could be easily shipped to our customers and prospects…Our team and prospects love them so much we had to order more." - Anne Gherini
Read Case Study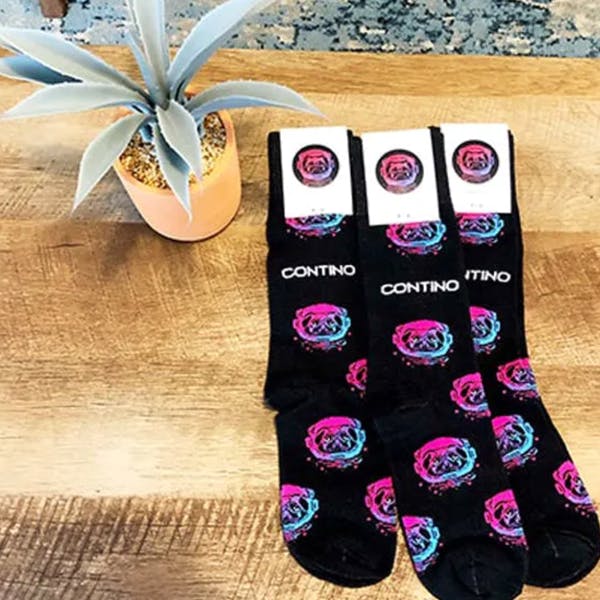 "We wanted a smaller swag item with our mascot, Maurice, on it and these have gone over exceptionally well with clients and at conferences!"
Read Case Study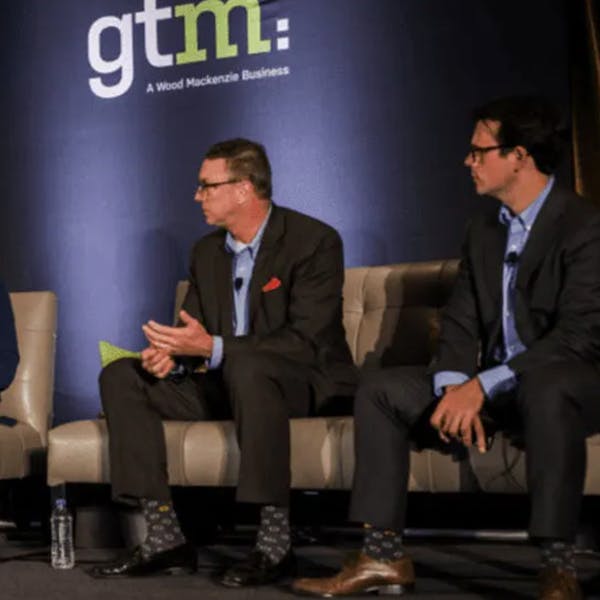 "We've now done two different sock designs. We give them out to VIP customers, and use them as speakers' gifts for the conference we host (the Solar Software Summit). In fact, now that we're on our second design iteration, the change has become a topic of conversation, e.g., people who 'have been customers since the first generation of socks.'"
Read Spotlight
The Future of Trade Show Giveaways
With virtual and hybrid events on the rise, the landscape of trade show giveaways is evolving. Digital swag, such as e-books, online courses, or software trials, is gaining popularity. Meanwhile, companies are getting creative with their physical giveaways, delivering branded care packages to virtual event attendees or offering sustainable, eco-friendly products.


As the world of events continues to change, one thing remains certain: trade show giveaways, when executed strategically, remain a powerful tool in event marketing. Whether you're handing out branded pens at a conference, offering a digital download at a webinar, or sending a personalized gift box to a virtual summit participant, giveaways can significantly enhance your brand visibility, customer engagement, and event success.
Embracing Technology in Event Marketing
Event Registration and Email Marketing
Online event registration platforms can simplify the sign-up process, while email marketing tools can automate your promotional emails, saving you time and ensuring consistent communication with potential attendees.
Social media platforms offer a powerful channel for promoting your event and your trade show giveaways. By creating engaging content and leveraging features like hashtags or paid advertising, you can reach a wider audience and generate buzz around your event.
Analytics and ROI Tracking
Finally, analytics tools can provide valuable insights into your event marketing performance, helping you measure your success and calculate your return on investment (ROI). This data can inform future event marketing strategies and guide your selection of trade show giveaways.
Get Started on Your Free Design
Join over 72,000+ companies who have designed custom socks for their brand.