Published March 27, 2023
How To Access Tools in Your Sock Club User Account
Our user accounts offer various tools to help users access updated pricing, learn about products, and design socks creatively. We have centralized all these tools in the new Tools tab to make account navigation and tool finding easier for users. These tools can now be accessed with just a few clicks instead of phone calls or emails.
Abbey Grimes
Head of Product


Our User Accounts are designed to empower our uses to make, design, and order custom socks - anywhere, anytime.
We have created a lot of tools in our user accounts that will help our users get the most up to date pricing, learn more about all of our products, and express their creativity through sock design in a variety of ways. 
Now, we have centralized all of the Tools available to our users into one place - the Tools tab. We hope that this new Tools feature will help our users navigate their accounts more easily, and enable them to more easily find the Tools they need to take processes that used to take a phone call or several emails, and do them in just a few clicks.
How To Access The Tools In Your Account
Step 1: Sign in to your Sock Club user account..
Click the login button on the top right corner of your screen to log in, or, to create a new account, visit our create an account page.
Step 2: Click "Tools" tab on your dashboard.
Once you have logged in to your account, you will see your user account dashboard. Click on the word "Tools" that is underneath your name in your account.
Step 3: View and access your Tools.
Once you are in your Tools panel, you will see the features that we have identified as the most powerful for enabling you to order custom socks in just a few clicks.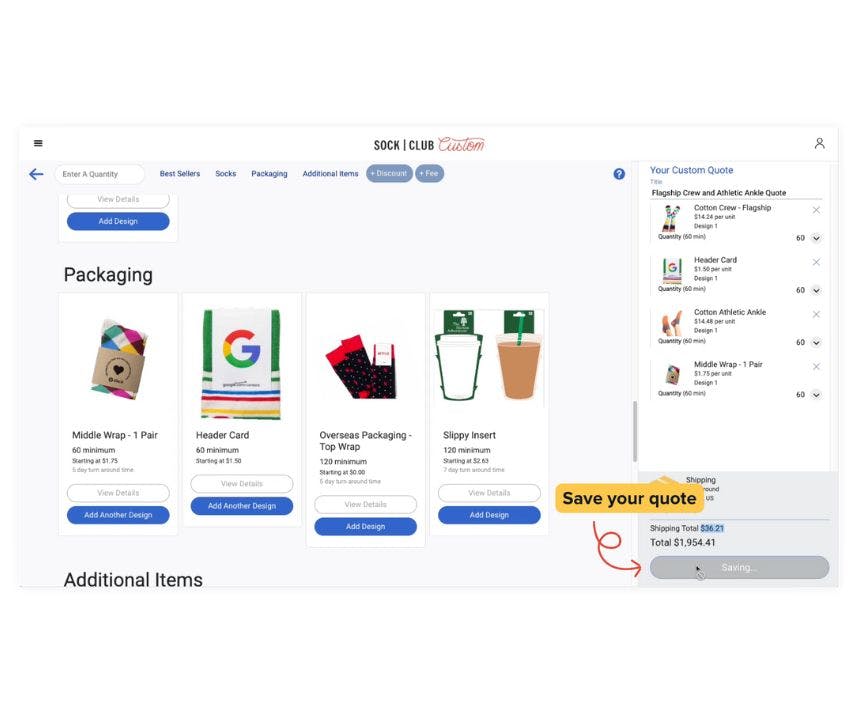 A screenshot of our user accounts showing a completed quote for custom crew socks, custom ankle socks, and UPS Ground shipping.

Quote Tool.
With our user accounts, you can conveniently monitor your previous and ongoing projects, reorder them with ease, initiate new projects quickly, and enjoy several other benefits. One of the significant advantages of our user account system is that you can access the latest pricing information in just a few clicks without having to email one of our Account Managers repeatedly to request a quote. This feature enables you to receive a quote instantly, which is faster than waiting for our Account Managers to respond.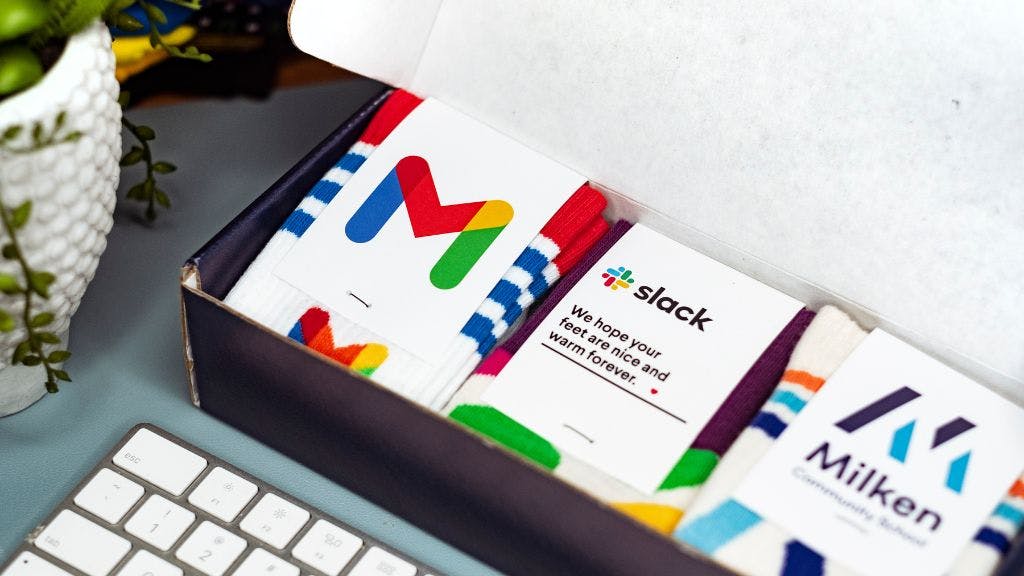 Our clients often rely on our past work samples to assess the quality of our socks, examine the yarn colors in person, or try out different sock styles. We offer a range of sizes and types of socks, including crew length and no-show styles in different weights and fabrics such as soft brushed fabric and wool suitable for cold weather. Additionally, our product line includes athletic socks for fitness enthusiasts, such as ankle socks for those who prefer a more technical fit. We understand that the right sock can play a significant role in ensuring overall comfort. Moreover, we have various yarn colors available to match our clients' logos, which they can browse through on our website.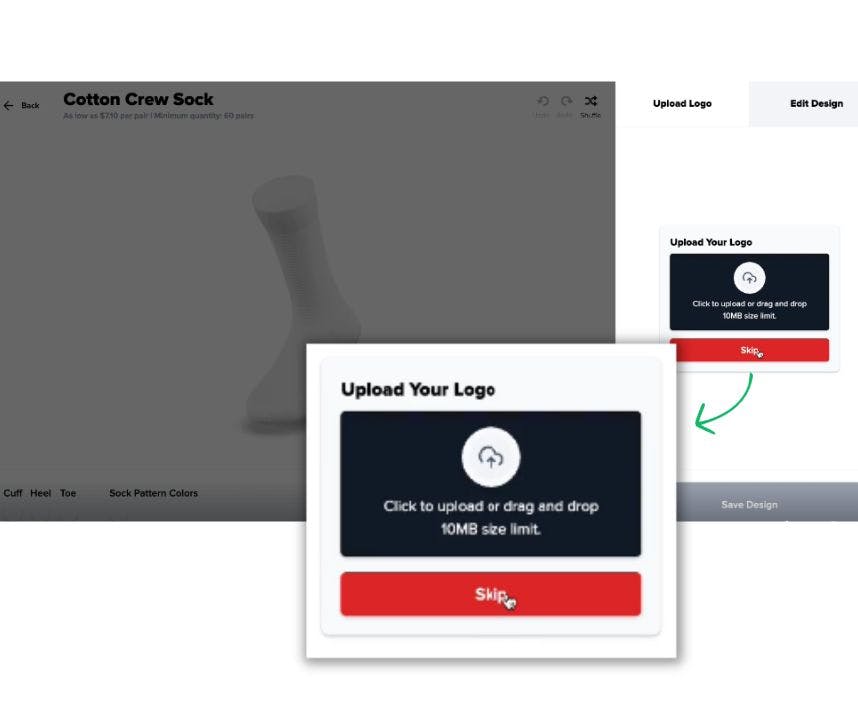 The upload your logo modal window that pops up when you use the Sock Club online custom sock designer.



DIY Design Tool.
Throughout our history, we have never charged for design services when creating custom socks for our clients. Our philosophy has always been to ensure that each of our clients receives the best possible sock design, regardless of their creative abilities or technical expertise in designing branded socks. To this end, we have developed a custom sock design builder that allows our clients to create unique and impressive designs with just a few clicks. 
Our custom socks offer complete customization from top to toe, and we are committed to emphasizing this fully-customizable concept in every aspect of our user account system and shipping preferences. We believe that your custom sock should be a reflection of your individuality and distinctiveness.
Do you have expertise in graphic design? These custom sock templates are designed for professionals. Our Adobe Photoshop and Illustrator files provide complete creative control over your custom sock designs, with a detailed guide included to assist you throughout the process. Before starting, please go through the instructions provided in the downloaded file, and feel free to reach out to our team for any assistance you may require while designing.
More than 72,000 businesses and organizations have received assistance from us to create personalized sock designs for various purposes, events, and seasons. Our extensive experience enables us to determine the most effective and popular custom products. We have compiled a comprehensive catalog that includes pricing, minimum order quantities, turnaround times, and product details for all of our offerings. You can download and review the catalog by following this link.
Address Book.
Easily save your most commonly used addresses to your account to make it easy to ship custom products to your team.
My Account.
Review your name, photo, company information, and add billing contacts.