How To Use Sock Club's Online Custom Sock Designer
We created this tool to empower anyone to create the coolest sock design possible in just a few clicks.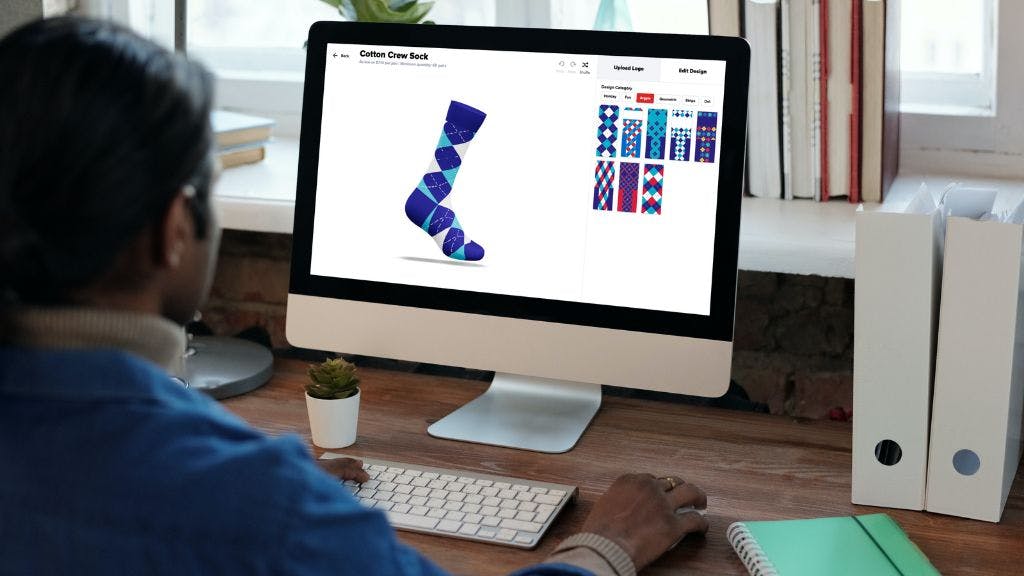 We have always offered free design services for our custom socks. Our thinking has always been that we want all of our clients to have the absolute best sock design possible. While everyone is creative, not everyone has the software and background to design their own branded sock.


We developed our custom sock design builder to empower our clients to create their own amazing custom sock designs in only a few clicks. One of the major benefits of our custom socks is that they are fully customizable from top to toe. We want to reinforce that fully custom idea in everything from our user account system to each user's shipping preferences. Your custom sock should be uniquely and completely yours.


How To Use Our Online Custom Sock Design Builder


Step 1: Click through to our sock design builder on our website.
We want our users to be able to get a free design or build one themselves no matter where they are in their journey. Therefore, we have the block picture below on most of the pages on our website. Find the block below, or click here to start customizing your sock design.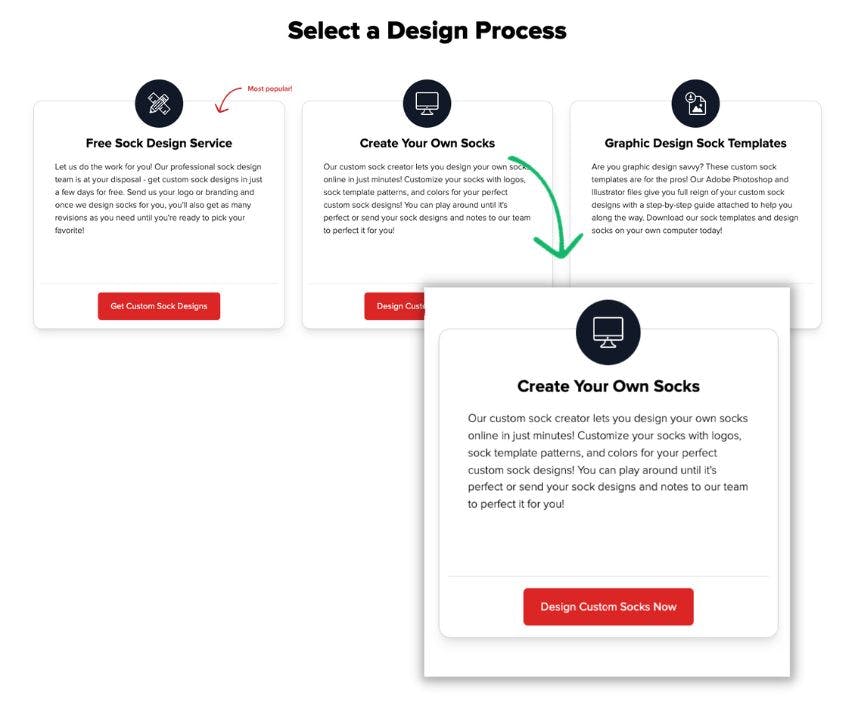 Step 2: Upload your logo.
While this is not a necessary step, we definitely recommend this as a best practice for getting your perfect sock design. If you have your logo on file, we recommend uploading a hi-res .png file if possible, because that will render the best on the sock. 


If you don't have your logo on hand, you can always upload your logo to your account after you save your design. However, having your logo incorporated into your design will speed up the process and allow you to see more of what the finished product looks like before our design team makes the production-ready file.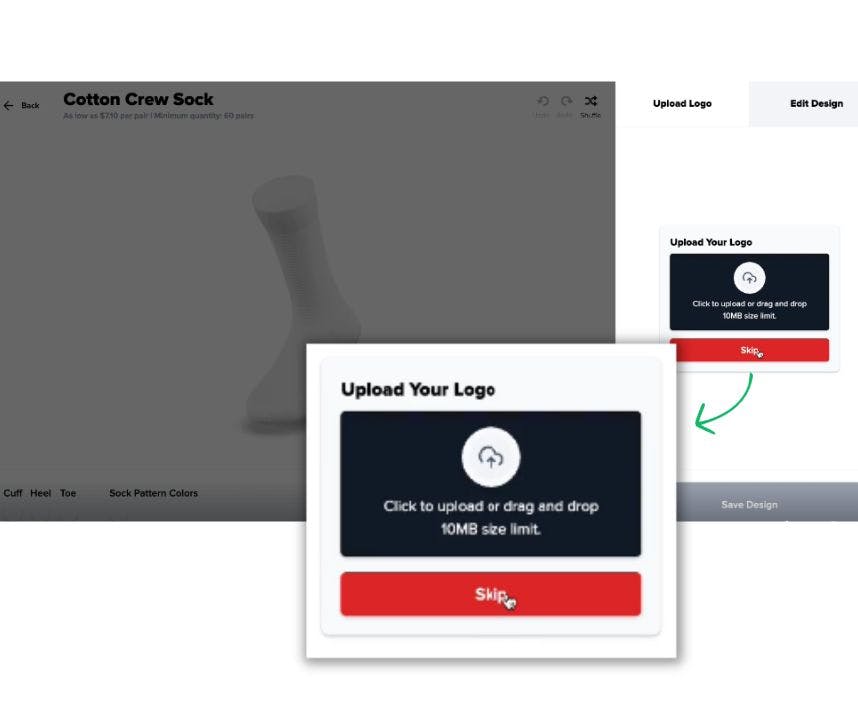 Step 3: Choose a design template to customize.
Our designers have uploaded some of our most popular and best-selling designs to our custom sock designer. They are categorized by logo placement and design category.


The different spots for logo placement are on the calf, on the footbed (bottom of the sock), on both the calf and the footbed, and repeating all over the sock. If you have a wider or more complex logo, we definitely recommend a footbed placement design. If you have a simple logomark or a simplified and compact version of your logo, we find repeating logo designs to be very popular.


Depending on the logo placement you choose, different templates will become available in each of the design categories. Our curated sock designs fall into holiday, fun, argyle, geometric, stripe, and dot categories. It is important to consider your use case when you are choosing your template. If it's a corporate gift, you might want to go with an argyle custom sock design. If it's a trade show giveaway, you might want to create something a little more fun and eye-catching.


Step 4: Choose your sock colors.
Once you have chosen your design template, it is time to choose your yarn colors. We have over 50 different yarn colors to choose from. You can use our yarn colors page as a reference for Hex codes and real world examples.


You can select your cuff (top of the sock), heel, and toe colors. They do not all have to be the same color. One thing to note: we do not allow custom design elements in the cuff, heel, and toe of the sock. They are knit differently than the rest of the body of the sock.


Choose colors in the body of the sock that represent your brand colors and highlight your design, but do not distract from the logo. Since your custom socks are serving to promote your brand to your clients, fans, or employees, you want your logo to be centrally featured so that you leave a lasting impression with your custom sock design.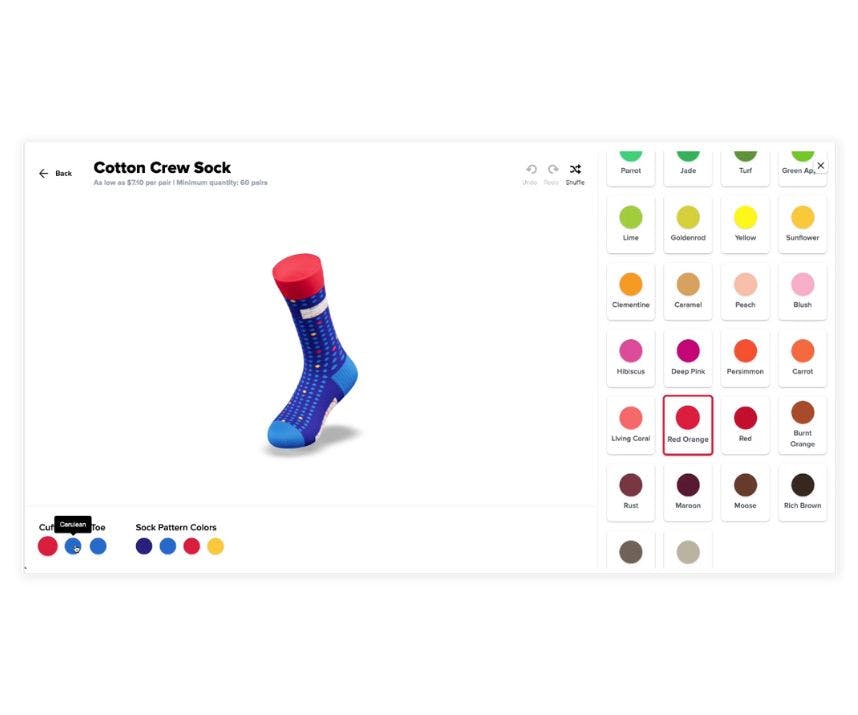 Step 5: Use your mouse to look at all sides of your design.
This step should not take more than a few seconds, but it is crucial to give you the confidence that your design looks good all the way around the sock, since it is a piece that will be worn. Click on the sock and move your mouse to make your custom sock design rotate, see it from the back, and see the bottom of the sock.



Step 6: Save your design to your account.
When you save your design to your account, your design is put directly into the hands of our designers to make your production-ready file. This step is necessary because our sock experts need to ensure that your sock will knit well, your logo will be accurately represented, and the sock will stretch well. You will have your production-ready file ready to purchase and knit within one business day.



Are there other ways to design custom socks?
Absolutely! You can use one of our sock design templates, which you can download here. Please read the instructions included in the downloaded file before beginning, and remember that our team is always available to answer any questions that you may have as you get into your design.


You can also get free designs from our in-house team of sock designers when you upload your logo to your account or through our new project form on our website.