Published August 16, 2022
The Best Custom Branded Socks for Business
Businesses are choosing to use custom logo socks for several reasons. We'll dive into why custom pairs of socks are a perfect item for businesses and can create a lasting effect on potential clients and customers.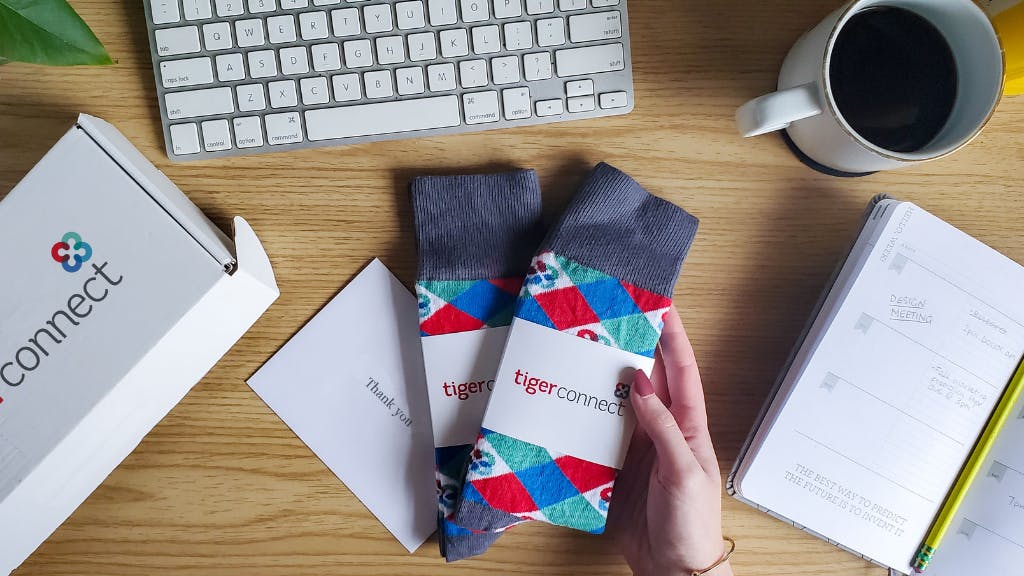 To give you a better understanding of why businesses need branded socks, let's discuss some features that make custom cotton socks the best pair of socks for your business.

Benefits of Custom Crew Socks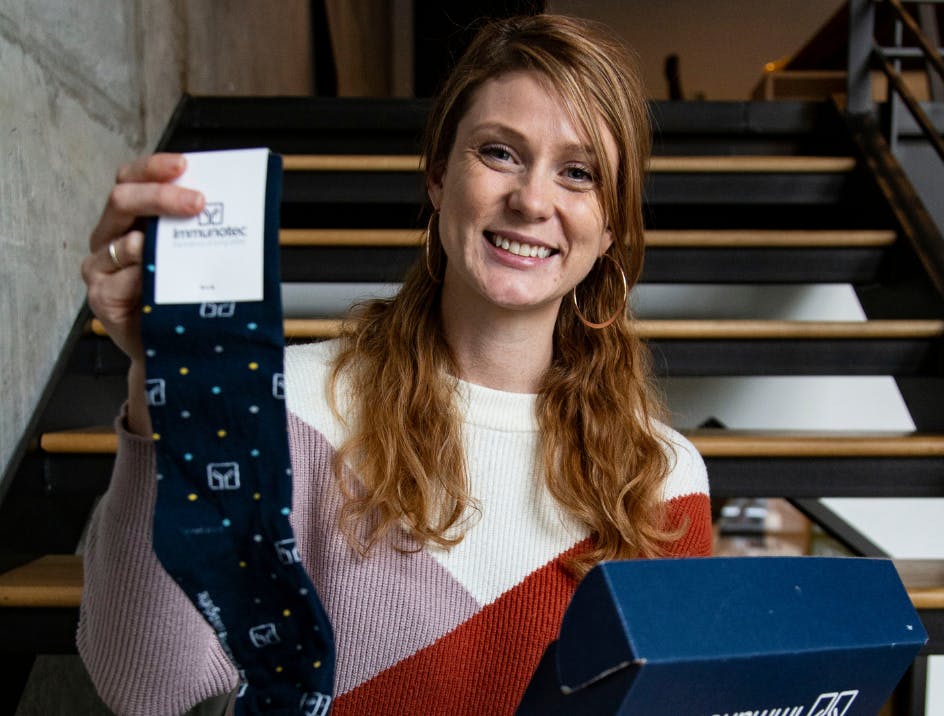 Sock Club is known for our Flagship custom crew socks. Below are some of the reasons why they are our best-selling custom sock.

#1. They are versatile 
They can be used for any occasion and worn by any gender. We make it easy, providing a one-size-fits-most option and full-color unisex designs. They provide comfort while being extremely stylish. 

#2. They provide comfort
We create custom socks with cotton and they are manufactured in the USA. Cotton is a durable and breathable fabric that ensures comfortability and a pair of socks that you can wear again and again.

#3. They are a perfect fit
Unlike ankle socks, custom crew socks provide a secure fit that will help prevent you from having to dig your socks out of the back of your shoe. Athletic crew socks also provide compression and extra padding in the heel and toe. Click here to learn more about the benefits of athletic socks. 


#4. They have different colors 
At Sock Club, there are over 50 yarn colors to choose from. Our designers can match almost any branding guidelines and create you a custom sock design that tells the story of your business and fits in with your culture. 

#5. Easy to design and fastest turnaround time 
We offer three different custom sock design options that are free to use. Designing your own custom crew socks can be as easy as sending us your logo and we will return a free virtual sock design to you in as soon as 1-2 business days.

Suppose you want a more hands-on experience. In that case, we offer a free 3D custom sock builder that allows you to choose from over 70 different designs, customize them with over 50 different colors, and upload your logo. 

Lastly, we have free downloadable adobe illustrator and photoshop custom sock design templates for businesses who have graphic designers or want total control over their custom branded socks. 
Why Your Business Needs Custom Socks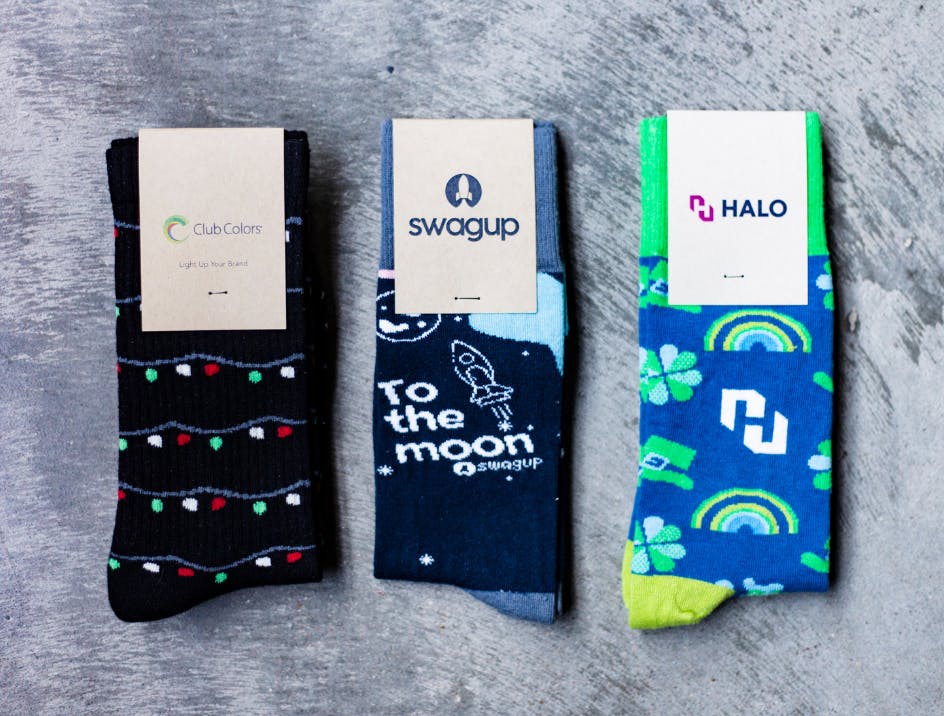 #1. It increases brand recognition and builds loyalty 
By branding a wearable product such as custom socks with logo, your brand will be seen by a wide range of individuals. Increasing brand visibility will help build brand recognition. You want to be top of mind when someone sees your brand or related services because consumers are more likely to buy from the brands they know or recognize.

By giving out high-quality custom knitted socks, people will associate your brand with being a high-caliber company. By gifting employees, customers, or prospects with high-quality custom swag gift they will feel good and positively associate their gifted sock with your company. In return, they will find themselves loyal to a brand that cares about its consumers.


#2. It helps to increase sales and marketing 
Custom bulk socks help businesses become more visible to their target audience, increasing the likelihood of positive relationships that turn into purchases.

Custom promo socks are also used to engage conference attendees and to drive traffic to your trade show booth. At conferences and trade shows, people love great event giveaways that stand out.


#3. Shares company love 
Another reason why you need custom promotional socks for your business is that it is a perfect opportunity to give back to your employees and the local community.

At Sock Club, we will match your custom order and donate to an organization of your choice! What a great way to better your community while bettering your company. Ask your account manager for more information.

Start Designing Your Cotton Crew Socks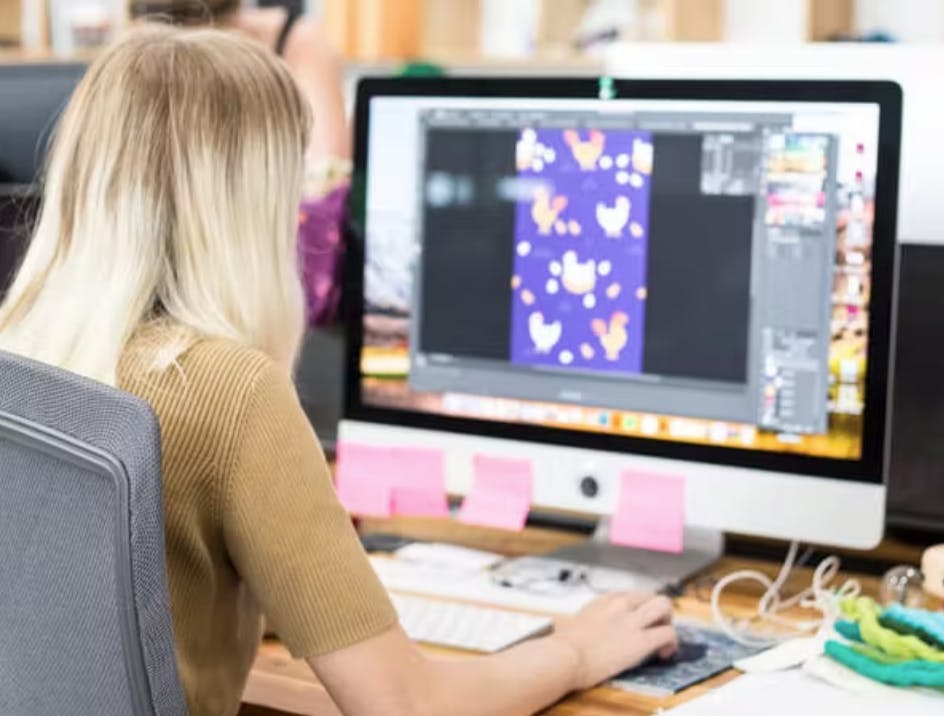 The process of ordering your custom knitted socks is simple. All you need is to send your brand's logo and any other assets you may want to showcase, and our talented team of designers will create beautiful design mockups within 1-2 business days.

However, if you need help with your design or placing your order, feel free to contact us today at custom@sockclub.com, our customer service team will be happy to assist you!