Published July 18, 2022
4 Reasons Branded Socks and Promo Socks are Trending
When custom branded socks and promotional socks hit the market they quickly became a trendy promotional product that stood out! As brands, companies, and businesses are always looking for the latest and greatest ideas for company swag, conference giveaways, employee gifts, etc - custom logo socks climbed the list fast!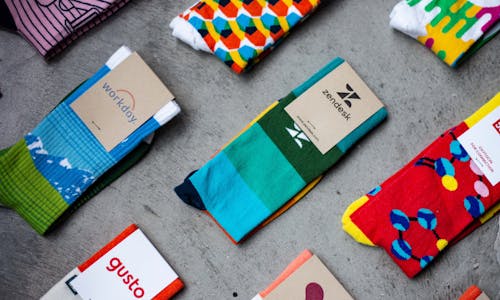 Custom promo socks are not only budget friendly, they're also super versatile and make a perfect complement for any occasion- below are our top 5 reasons why you can't go wrong with creating custom socks with logo:
-
1. Custom Socks Are Great for Marketing
It's no longer new news that businesses consider the importance of promo products for their marketing strategy. However, the problem is figuring out the best custom logo product to promote their business.
-
With company logo socks, brands have discovered one of the most effective and affordable ways to make a positive impact on their clients, prospects and employees. Instead of repeating boring branded t-shirts, pens or stress balls, turn up your giveaways at events and conferences with high-quality, uniquely designed corporate socks.
-
2. Custom Socks Encourage Creativity 
Another reason why customized socks with logo have become the new trend is that they allow you to express your brand and company creativity. Whether you have a vision or not, our in-house professional design team can create custom sock designs for you to choose from. Whether you're looking for something more classic, or hoping for the craziest coolest sock out there - our team of experts can make it happen just by submitting your logo to us!
-
Our specialty are custom knitted socks- which means not only are they more comfortable and higher quality, but also the entirety of the sock can be customized. Your custom socks for business can include everything from colors, illustrations, logo, and words to capture the image of your brand!
-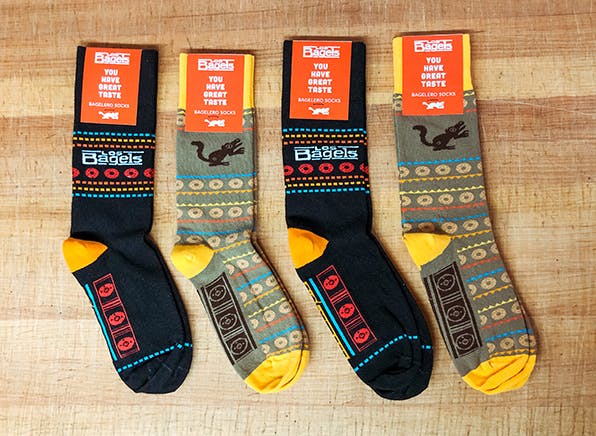 -
3. Custom Socks are the Perfect Fit
Another reason why brand socks are trending is because brands don't have to worry about buying numerous sizes with high overruns. Sock Club offers a one-size-fits-most option also known as our adult medium- these logo socks are versatile with a durable and comfortable design that can accommodate almost any foot size. If you need something more specific in size, we offer a range of target sizes from baby socks to adult large sizes so you can create socks with logos that suit your every need.
-
4. Custom Socks are Fast and Easy
When you're buying bulk custom socks with us at Sock Club, our sock manufacturers in the USA can create them in just five days! Then because of our domestic locale, we can ship them to you just as quickly. No need to wait around, get your custom socks fast and easy!
-
How To Use Custom Branded Socks

Just like we discussed, your custom socks with logo are suitable for everyone regardless of the occasion. There are several ways businesses and individuals can use brand socks, such as:
-
1. Custom Socks as Company Swag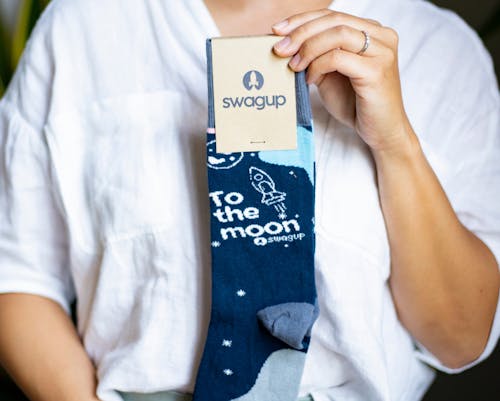 -
Company swag is more than just a promotional product. It's a way to increase engagement, awareness, and positive association. So whoever you're giving custom swag to whether it be employees, prospects, or clients- it's important to invest in high quality products because it represents your brand!
-
That's why we recommend putting your logo on socks, specifically Sock Club custom socks. Our best sellers are custom cotton socks because of how soft and wearable they are and as custom socks manufacturers we specialize in custom woven socks because of how durable and long lasting socks should be. So the next time you are considering creating company swag to build brand loyalty and relationships, choose high quality bulk custom socks!
-
2. Custom Socks for Conference Giveaways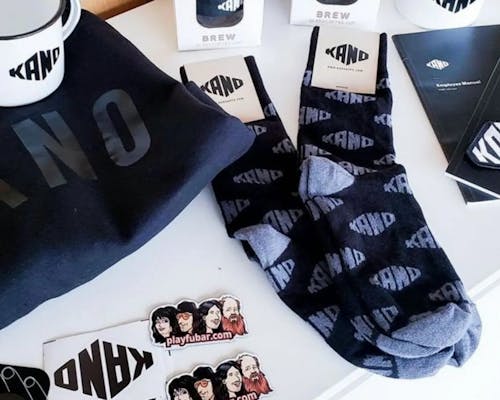 -
Custom promo socks are also used to engage conference attendees and to drive traffic to your trade show booth. At conferences and trade shows, people love great event giveaways that stand out. With our snazzy custom sock designs incorporating your logo and company branding, your giveaway will sure to be a hit!
-
Finding the best-branded conference giveaway doesn't have to be difficult and wasteful. We can help you create high-quality unique and branded trade show swag that doesn't end up in the trash. Custom socks are a fantastic swag option that will get used again and again by everyone!
-
3. Custom Socks in New Hire Package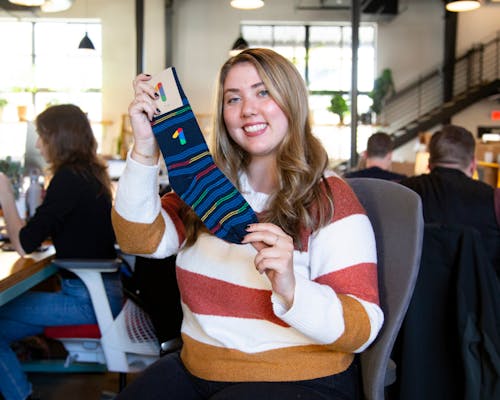 -
Put your company's best foot forward by using brand socks as new hire packages. These company branded socks are a unique way of welcoming new hires to your company and making them feel a part of the culture! If you want your employees to know how much you value their presence in your company, custom socks are the best option. Not only will these logo socks show them that you care, but they will also encourage them to be proud to represent their workplace!
-
4. Custom Socks for Sports Team Uniforms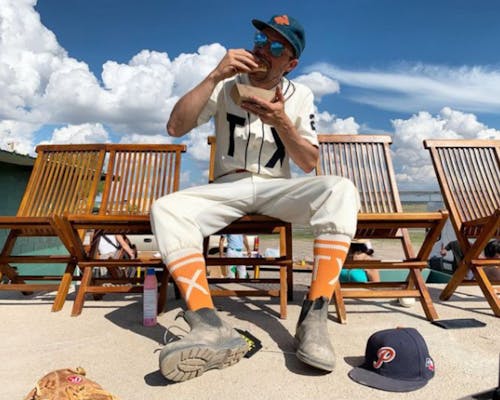 -
Because of the versatile nature of socks with logos, they can also be used as custom team socks for sports uniforms. Just as sports shoes make great sporting outfits, our custom athletic socks can be customized with team logos, numbers, words, and colors to make your team look coordinated and sharp- while being comfortable and built for performance!
-
5. Custom Socks to Promote Events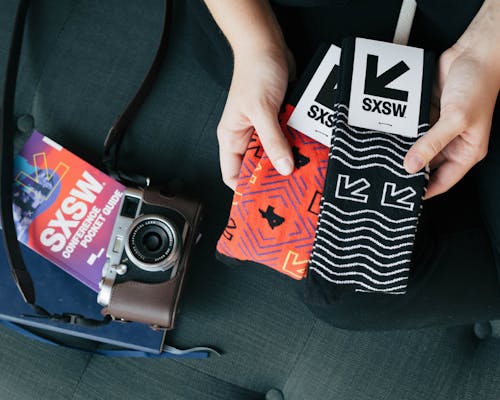 -
There are many marketing channels for your event including event websites, social media, email campaigns, and our personal favorite, custom socks! Unique and high quality custom branded socks are one of the best event promotion swag ideas. Brand socks allow you to promote your event and give gifts to your VIPS, or sell them as official event branded merchandise!
-
In Conclusion 
Don't miss out on the latest custom promotional product trends for your business. With free custom sock designs, excellent customer service, flexibility, and fast shipping services, you can customize socks with Sock Club any which way you want and get custom socks fast and easy!