Say 'I Do' to Custom Dress Socks: The Perfect Wedding Favor Idea!
Weddings are a time of love, joy, and celebration with family and friends. And what better way to commemorate such a special occasion than with a unique and personalized wedding favor? Personalized wedding socks are the perfect wedding favor idea that your guests will surely love!
Custom wedding dress socks are a fun and practical addition to any wedding, and they make for a great keepsake that your guests can wear long after the big day.
Whether you opt for a sock design that matches your wedding theme or choose to personalize bride and groom socks with your names and wedding date, custom fun wedding socks are a unique way to show your appreciation to your guests.
Plus, they're a great conversation starter and photo opportunity that will make your wedding day even more memorable. So, if you're looking for a creative and thoughtful wedding favor idea, consider saying 'I Do' to custom socks!
Featured Sole-Mates: Brittany and Jonathan
Love stories from couples who have found their perfect pair of custom dress socks for their wedding favors.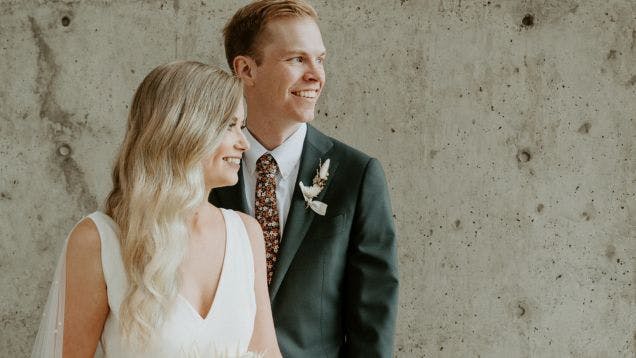 Jonathan and I matched on Bumble when the app had just come out. Our first date was to watch a Portland Trailblazers game. We bonded over our shared love of pugs and one of our next dates was to the Portland Pug Parade, even though neither of us owns a pug!
Their Love Story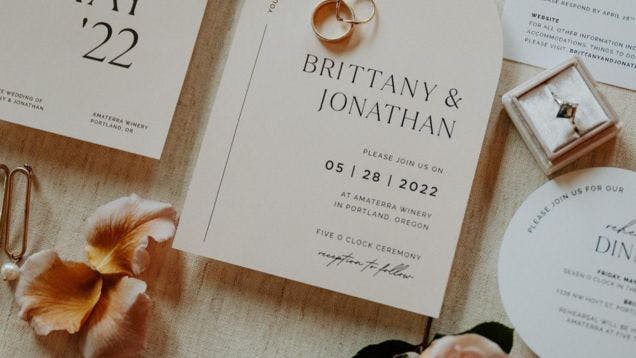 We wanted to make sure our wedding favor was something that our guests would actually want and use! We have all received little tchotchkes from weddings that go in a drawer and then never come out.
Read About Their Wedding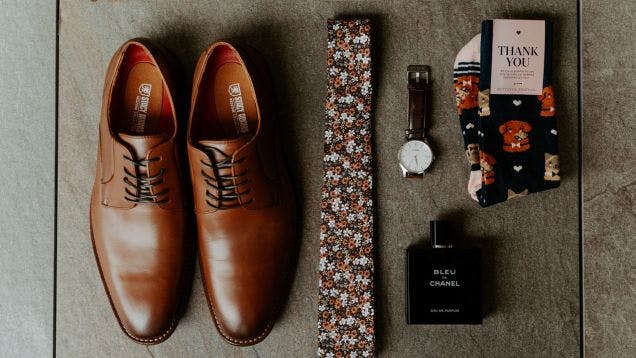 It was important to Jonathan and I that our wedding dress socks truly represented us! We brainstormed different ways we could visualize our favorite things, foods or Portland, but ultimately landed on our pets being our most beloved thing.
Their Custom Wedding Socks
Why Custom Socks Make The Best Wedding Favors
All the benefits of choosing custom dress socks as the perfect personalized touch for your guests.

As Unique As Your Love Story
Custom socks are also a great way to add a personal touch to your wedding. You can choose from a variety of designs and colors to match your wedding theme, or you can personalize them with your names and wedding date. This is a great way to make your guests feel special and appreciated, and it shows that you put thought and effort into your wedding favors.

Your wedding is stressful enough without having to worry about keeping up with the details of a complicated ordering process. Low minimums, quick turnaround, flexible shipping to anywhere in the world, and easy one-size-fits-most options. What more could you ask for?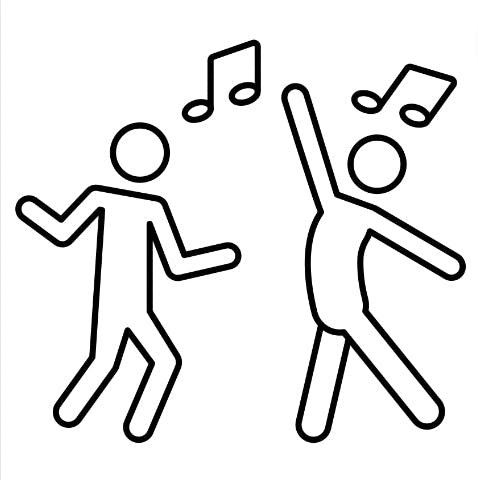 Encourage your guests to kick their shoes off and get into their dancing socks on the dance floor. We guarantee that our socks are more comfortable than that pair of stilettos that your maid of honor is wearing!

Unlike other wedding favors like candy or candles, custom socks are practical and can be worn long after the wedding is over. They are also shipping and carry-on friendly, ensuring that your wedding favors will actually make it back home with your guests.

Our team of sock designers is here to bring your vision to life! Send us photos or a Pinterest board for reference, and we will make absolutely sure that your socks ~seamlessly~ fit into your wedding look and style.

Great Conversation Starter
Not only will custom dress socks start a conversation between your wedding guests on your big day, but they are a great way for your guests to remember the day and send you texts and photos of their socks for years to come. Your guests will love showing off their new socks and talking about how much they enjoyed your wedding.
Read about how real-life couples like you have used custom dress socks for their wedding favors.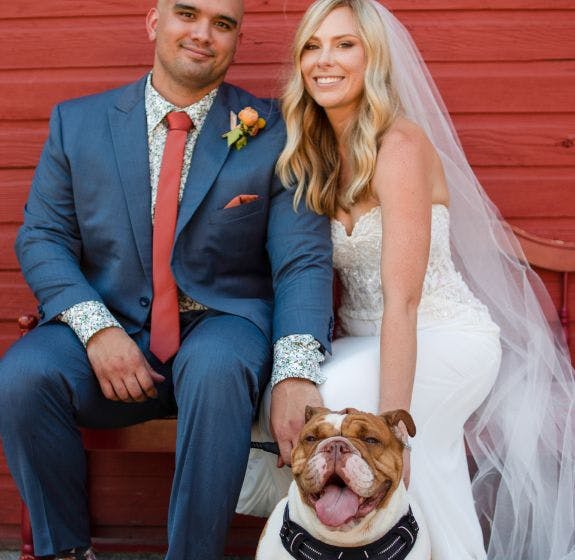 Sole-Mates: Blakey and Brett
The couple desired custom dress socks for their wedding that would reflect their fun and playful relationship. They incorporated their beloved pet Brock into the design, surrounded by a wedding theme. Their names and wedding date were added at the toe to create a statement.
Read Full Story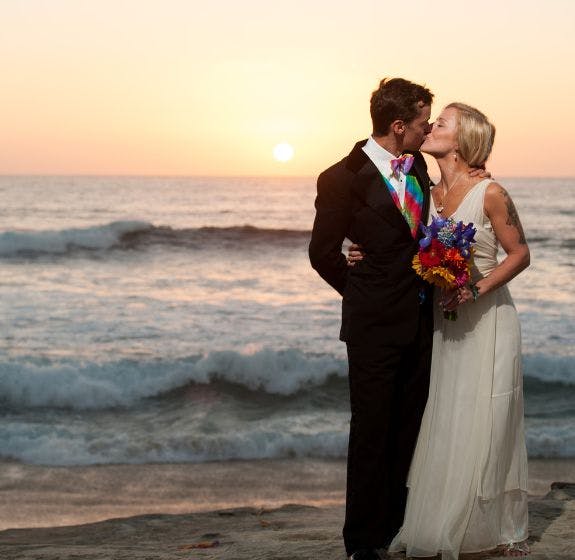 Sole-Mates: Chelsey and Phillip
For their destination wedding, the couple had to think about what kind of favors guests could take home easily on an airplane. Personalized dress socks were the ideal choice as they could be worn on the journey or packed in luggage without taking up much space.
Read Full Story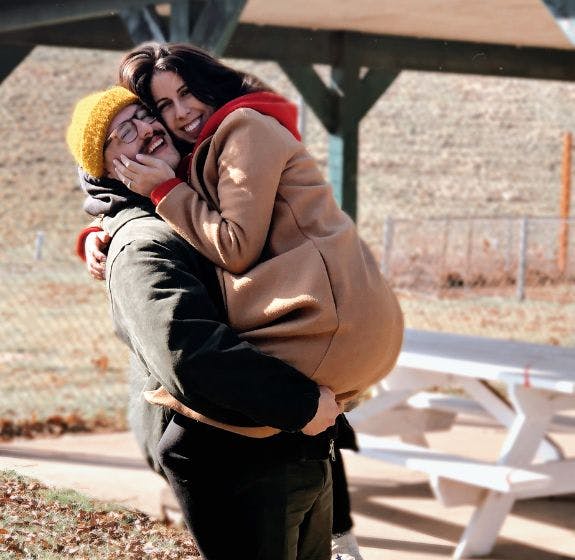 Custom Dress Socks for Weddings: Everything You Need to Know.
Types Of Custom Socks To Choose From
When it comes to choosing custom socks for your wedding favor boxes, there are many options to choose from. You can opt for traditional personalized dress socks, or you can get creative with more casual athletic styles, ankle socks, or knee-high socks. 
You can also choose from Cotton or Wool. Cotton is a popular choice for its softness and breathability, while Wool makes a winter wedding even that much cozier.
Designing Your Custom Dress Socks For Weddings
When choosing your design, it's important to consider the colors and patterns that will best match your wedding theme. You may also want to consider adding your wedding hashtag or a special message to make your socks even more memorable. Our design process allows you to upload your own design or choose from a library of pre-made designs. You can also add text, such as your names and wedding date, to personalize your socks even further.
Personalizing Your Custom Wedding Socks
Personalizing your custom wedding socks is a great way to make your guests feel special and appreciated. You can add your names and wedding date to your socks, or you can choose a design that represents your relationship or interests. 
For example, if you and your partner love to travel, you could choose socks with a world map design or the names of your favorite cities. If you're both avid hikers, you could choose socks with a mountain or forest design. The possibilities are endless, so get creative and have fun with it!
How To Present Your Custom Socks To Wedding Guests
You can choose to have them placed at each guest's seat or you can have them displayed on a table for guests to grab as they leave. Another fun way to present your custom wedding socks is to have them displayed on a custom sock board. This is a great way to showcase your socks and make them a focal point of your wedding decor. You can even add a sign or banner that says "Take a pair for the road!" to encourage your guests to grab a pair before they leave.
Cost Considerations For Custom Wedding Socks
The cost of custom wedding socks can vary depending on the style, material, and quantity you choose. However, we offer affordable options that won't break the bank.
When budgeting for your custom wedding socks, it's important to consider how many guests you'll be giving them to and how much you're willing to spend per pair. You may also want to factor in the cost of custom tags or packaging if you choose to personalize your socks even further.
Other Ways To Incorporate Custom Socks Into Your Wedding
Wedding Socks For Groomsmen Or Wedding Party Socks
Custom socks make great gifts for your wedding party. You can design socks that match their dresses or suits, or you can personalize them with their names or initials.
Father Of The Bride/Groom Gifts
Custom socks are also a great gift for the father of the bride or groom. You could choose socks with a special design that represents your relationship, or you could personalize them with their name or a special message.
Bachelor/Bachelorette Party Favors
Custom socks make great favors for your bachelor or bachelorette party. You could design socks that match your party theme or personalize them with each guest's name.