Published April 13, 2023
The Best Custom Socks We've Found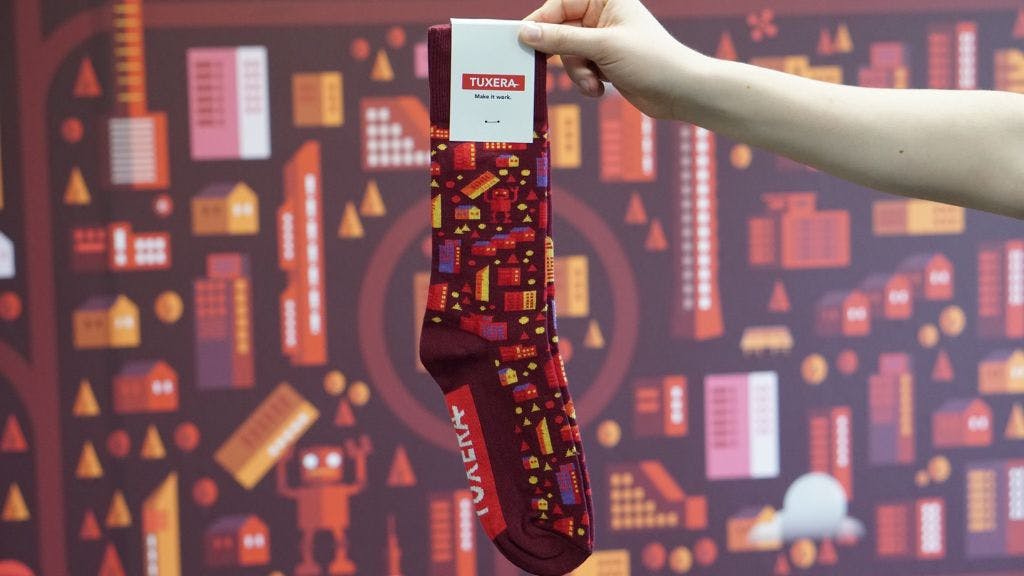 People sometimes think that they need to put a photo on their custom made socks to get the best effects, but in our experience custom knitted socks are so much cooler with hands down the best quality. So how did we judge which custom socks were the best? We broke it down by category because we think it's not just about the design, but also the purpose and who they're meant for! So here are our categories:
Custom Promo Socks for Giveaways
Custom Logo Socks for Business Internal Use
Custom Branded Socks for Merchandise 
The Best Custom Promo Socks for Giveaways
Depending on company culture and brand guidelines, we've seen all types of custom logo socks - whether they are classic stripes or argyle all the way to notable mascots. The point of these promo socks is to make a lasting impression. At trade shows companies are hoping to be remembered by their potential prospects, and at events, brands hope to create a positive association. Here are our top two picks:
#1 Best Custom Socks for Giveaways - Calm
The Calm app, according to their website, is "the #1 app for Sleep, Meditation and Relaxation." Their team was attending a lot of trade shows before the pandemic, and were looking for a new trade show giveaway that would be on-brand for people trying to get comfortable and relax.
We thought there was no better way to relax than in a pair of soft, comfy, high quality custom socks. To reflect that in the design, our custom sock design team was challenged to make a gradient pattern on custom knitted socks and place the logo on socks in a refined way. Look how amazing these turned out!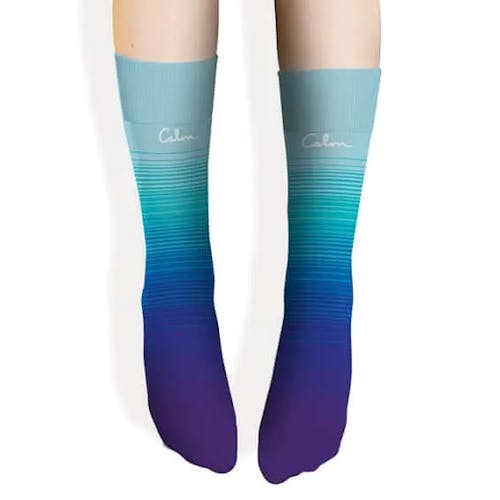 #2 Best Custom Socks for Giveaways - Bid Switch
From afar this could look like pretty plain custom logo dress socks, but we voted this as the number two coolest custom promo sock we've seen because of how well it uniquely represents the company! 
BidSwitch regularly attends trade shows in order to gain more clients, and needed a branded giveaway that represented the thing that they are most proud of - their tech. They sent us a picture of some lines of their code, and we turned it into awesome promotional socks!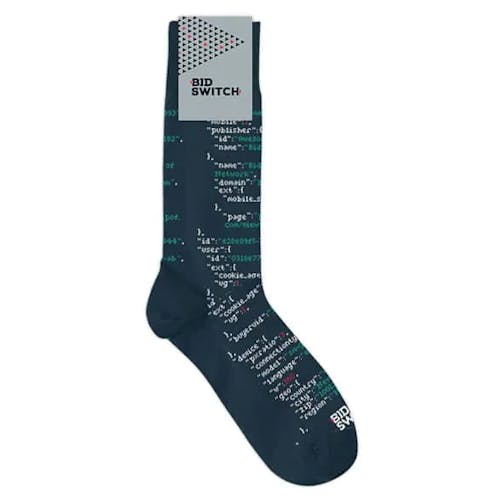 The Best Custom Logo Socks for Business Internal Use
When thinking about corporate socks a lot of companies are not as worried about making sure their logo is seen by the world, but that they're creating a branded sock that the recipients will want to wear! Sometimes it is about making custom socks with company logos in a subtle way and sometimes it's about making the design something people can instantly recognize!
#1 Best Custom Socks for Business Internal Use - Ford
Ford's marketing company Helm was looking for a holiday-themed custom sock that Ford could excite their employees with. We voted this as the #1 Best Custom Socks for Company Use because we love how seamless these custom made socks with logo came out with an "ugly sweater Christmas" design. Needless to say, Ford used these as holiday and employee appreciation gifts!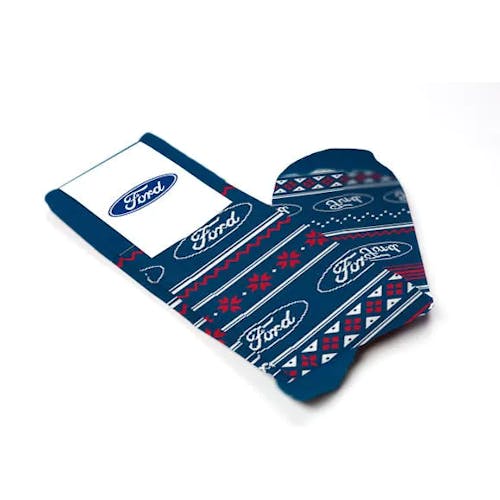 #2 Best Custom Socks for Business Internal Use - Facebook
Facebook prides itself on its internship program, their benefits and experience are not the only perks of the job- a Facebook internship also provides the opportunity to get cool branded company swag!




The Best Custom Branded Socks for Merchandise
As custom sock manufacturers, we are often asked to white-label our services so brands can sell their custom socks with logo wholesale to their customers. These clients aren't as worried about trying to customize socks with logos, but creating a high quality custom woven sock that their customers will love and being able to work with the best bulk custom sock companies to do it!
#1 Best Custom Branded Socks for Merchandise - Khruangbin
Khruangbin is a popular three-person band from Houston, Texas that specializes in a mix of global music influences, such as classic soul, dub, and psychedelia. When they were looking for branded socks as merchandise to launch with their new album they came to us looking for custom sock designs that reflected the funky, creative nature of their musical style.
We don't often get to do portraits, which is why we named this the #1 Best Custom Branded Socks for Merchandise. It's uniqueness and detail shows off how cool custom socks can be and how cool is it for their fans?!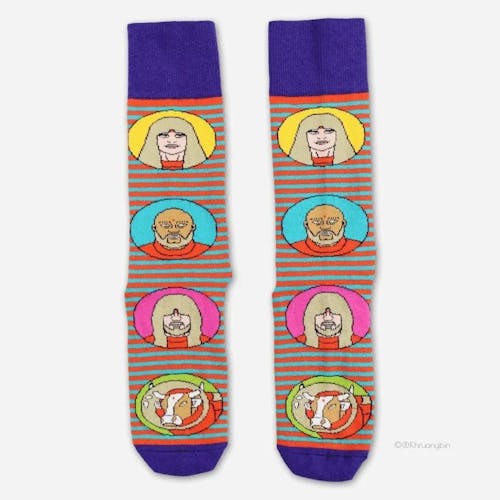 #2 Best Custom Branded Socks for Merchandise - Boardies
According to their website, "Boardies® is a lifestyle brand celebrating a world of creativity, travel and good times. When they were looking to add custom socks to their line of Apparel and Accessories, they reached out to Sock Club because they were looking for a custom socks manufacturer with high quality and low minimums to order bulk custom socks in bulk from.
We are obsessed with how these socks came out, not only are they a perfect representation of Boardies lifestyle brand but we also love how Boardies incorporated their logo on socks in a subtle way!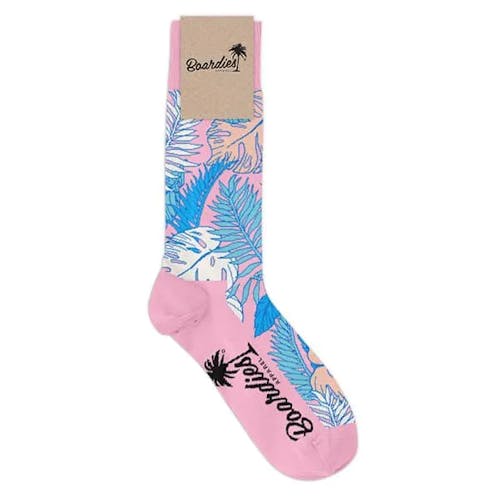 I hope that our custom sock selections have given you lots of inspiration! Our design team helped each one of these clients create their customized socks with logo or without. You can get free designs started by submitting a logo here today or you can give us a call at 1.800.618.4861 or email us at custom@sockclub.com. We are real people!